Le Procès (The Trial)
(1962)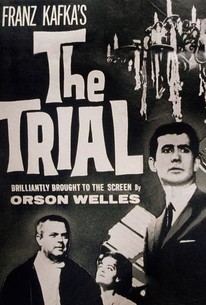 TOMATOMETER
AUDIENCE SCORE
Critic Consensus: Orson Welles may take big liberties in his adaptation of The Trial, but the auteur constructs an absurd nightmare that is unmistakably Kafkaesque -- grounded by an excellent Anthony Perkins as the befuddled Josef K.
Le Procès (The Trial) Photos
Movie Info
Much of Orson Welles' latter-day reputation as an "unfathomable" genius rests upon his seeming unwillingness to tell a story in clear, precise fashion. Sometimes, as in such films as Touch of Evil, Welles' spotty storytelling skills can be forgiven in the light of the excellent visuals. In other cases, as in his 1962 adaptation of Kafka's The Trial, Welles'style comes across as empty virtuosity, precious and petulant when it should be profound. Anthony Perkins plays Joseph K, a man condemned for an unnamed crime in an unnamed country. Seeking justice, Joseph K is sucked into a labyrinth of bureaucracy (Welles once described the character as being a "little bureaucrat" himself, who deserves to be punished. This is never clearly expressed in the finished film). Along the way, he becomes involved with three women -- Jeanne Moreau, Romy Schneider, Elsa Martinelli -- who in their own individual ways are functions of the System that persecutes him. While Welles considered The Trial one of his finest films, this enthusiasm is not universally shared; even his most fervent admirers have been known to emerge from a screening of the film with quizzical, disappointed expressions on their faces. On the plus side, Welles and his cinematographer Edmond Richard perform miracles in transforming an abandoned French railway station into the headquarters of a totalitarian, red tape-ridden society. It's also fun to hear Welles' voice emanating from several of the supporting characters (his post-dubbing budget was nil). All in all, however, The Trial never truly works; it is unfair, however, to lay the blame for this entirely on Welles, inasmuch as the 1948 and 1994 attempts to cinematize the original Kafka novel likewise came a cropper.
Critic Reviews for Le Procès (The Trial)
Audience Reviews for Le Procès (The Trial)
This fascinating existential nightmare is less Kafkaesque and more Wellesian, expanding physical spaces to amplify the character's feeling of smallness and impotence before a crushing judicial system and not focusing so much on the cynical gibe found in Kafka's novel.
Carlos Magalhães
Super Reviewer
½
Hastler: To be in chains is sometimes safer than to be free. I believed after reading Franz Kafka's The Trial, that filming a story such as this would be next to impossible, and after watching Orson Welles attempt, I see that this belief was justified. Welles may have done as good a job as possible at trying to bring an unfinished and surreal story such as The Trial to screen. However, it doesn't mean that the film is a success. Joseph K. works at a bank and is disturbed to find out that he is under arrest when two guards arrive at his room in the early morning. He isn't taken anywhere though, because they don't want to interfere with his personal, job life. They'll work the investigation around his schedule. When he asks what he is under arrest for, no one tells him. He's as confused by all this as the reader of the story, or in this case, the audience of the film is. I really enjoyed the book, but it's one of those stories that is pretty much impossible to grasp, especially being unfinished. Welles changes aspects of the book and leaves out some important elements of the book altogether. It just goes to show how challenging an exercise it would be to make a film adaption of The Trial, especially when someone like Orson Welles can't really do it justice.
Melvin White
Super Reviewer
½
Orson Welles' adaptation of Franz Kafka's absurdist story wherein Joseph K wakes up one day and finds he's being arrested, but no one will tell him what the charge is. Deeply layered, THE TRIAL is simultaneously an absurdist parody of legal bureaucracy, a prophetic warning of rising totalitarianism, and an existential allegory about a word whose Creator has condemned everyone to death. Welles proves the right man for the job, turning Kafka's labyrinths into a maze of shadows and light.
Le Procès (The Trial) Quotes
There are no approved quotes yet for this movie.