The Trip
(1967)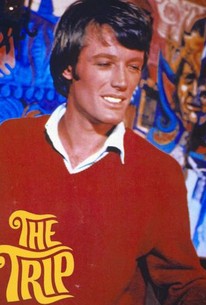 TOMATOMETER
AUDIENCE SCORE
Critic Consensus: The Trip's groovy effects and compelling message can't overcome the rough acting, long meandering stretches, and pedestrian plot.
Movie Info
A television director experiments with LSD and embarks on a mind-expanding trip that causes him to reevaluate his life. This dated psychedelic drama is best known for the involvement of numerous future stars, including Jack Nicholson, who serves here as screenwriter.
Critic Reviews for The Trip
Audience Reviews for The Trip
Probably better if watched while under the influence of drugs. Also needs more Dennis Hopper
Marcus Woolcott
Super Reviewer
This is a very interesting low Budget feature about the effects of LSD. The Trip, directed by Roger Corman with a script by Jack Nicholson is a well acted film that works as a commentary of drug use. The actors in the film to prepare for the film actually took LSD as well as the film's director, Roger Corman. For a low budget film, The Trip is pretty good for what it sets out to do. Considering its topic, this isn't a film for everyone, but to those who enjoy B movies, yo0u may enjoy watching this one. As it is, it's well acted, and it does show the effects of the drug. Eccentric, plainly weird and off the wall, this is among the most bizarre pictures that I have seen in quite some time. However, I quite the film, and the story, though flawed, is fairly good and the film's cast is engaging enough to keep you involved. Like I said, The Trip isn't a film for everyone, but this is mostly for Cult film fans, and even then, it's pretty weird. The film interesting in how it shows us the effects of LSD, and of course that's the centerpiece of the whole movie. Viewers looking for an elaborate, in depth film with a great story will be disappointed. The Trip has a good cast and story, but it never is anything excellent. This was made at the time where everyone was using LSD, so Corman naturally decided to make a film about its effects, it is an accomplished cult film and I've seen my fair share of farfetched films, but The Trip is definitely a prime example of eccentric cinema at its most unhinged.
The Trip is literally an acid trip, written by Jack Nicholson himself, and starring Peter Fonda as the guy on a trip, which is really psychedelic, but sometimes kinda slow and boring. Overall, good, but I didn't care much for it.
The Trip Quotes
There are no approved quotes yet for this movie.