The Turning Point
(1977)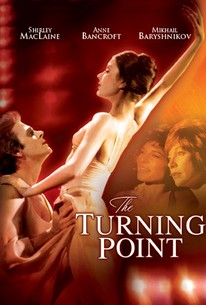 TOMATOMETER
AUDIENCE SCORE
Critic Consensus: The Turning Point is a handsomely-made resuscitation of Old Hollywood melodramas with a compelling duo at its center, but the formulaic script keeps this story from realizing its symphonic potential.
Movie Info
One of a cycle of '70s post-Women's Liberation "women's pictures," Herbert Ross's drama uses the ballet world to examine the conflict between family and career. Former dance colleagues Deedee (Shirley MacLaine) and Emma (Anne Bancroft) are reunited when Emma's New York ballet company stops in Oklahoma City for a performance. Having dropped her career for marriage and motherhood, Deedee envies prima ballerina Emma's limelight life; aging Emma, realizing that her days as a star are numbered, wishes that she had the fulfillment of a family like Deedee's. Tensions simmer when Deedee's talented teenage daughter, Emilia (Leslie Browne), moves to New York to join Emma's company. As Emma maternally bonds with Emilia, and Emilia falls in love with womanizing dancer Yuri (Mikhail Baryshnikov), Deedee feels that she's losing her place even as a mother. After Emilia's triumphant debut, Deedee's and Emma's resentments boil over into an all-out catfight that ends when they realize they can unite in happiness for Emilia's future. Splitting the desires to nest and to work between two characters, Ross and writer Arthur Laurents reveal the difficulty faced by women in a world of expanding options. As in Michael Powell's and Emeric Pressburger's seminal ballet film The Red Shoes (1948), dancing and a personal life don't mix, even as the films display ballet's seductive power here in the gracefully integrated numbers by dance stars Browne and Baryshnikov. Despite reservations about its melodramatic aspects, The Turning Point earned box-office success and eleven Oscar nominations (but no wins). Even if its wife/work struggle seems a bit old-fashioned, Deedee's and Emma's final bond suggests that the next generation may not have the same regrets.
News & Interviews for The Turning Point
Critic Reviews for The Turning Point
Audience Reviews for The Turning Point
½
An insufferable and melodramatic soap opera that didn't deserve any of the eleven Oscar nominations it got, especially for a mediocre script that has no structure or clear focus, as well as for Browne and Baryshnikov, whose nominations are an insult to any real actor.
Carlos Magalhães
Super Reviewer
A former ballet dancer's daughter moves to New York to star in a big-time ballet company, and the move resurfaces old grudges. I suppose that the highlights of this film are the ballet sequences, which are well-choreographed and visually fun to watch. But these sequences do nothing to advance the story or the film's characters; they divert the film's focus. Deedee, played by Shirley MacLaine, is the center of the film's main conflict, and Deedee must reconcile her choice - to settle down and have a family rather than compete against Emma, played by Anne Bancroft, for professional success. Despite scenes in which Deedee looks on enviously as her daughter achieves the success she never did, this conflict just sits in the background, and there aren't many moments in which we see Deedee working to resolve the conflict. The affair subplot is lame and poorly presented, and the final fight between Emma and Deedee resolves like a bad Lifetime movie - illogical, maudlin, and wracked with a bond between women that nobody could understand or believe. Overall, if you like ballet, skip the poor excuse for a plot between the dance scenes.
Jim Hunter
Super Reviewer
½
A boring, talky, and slow movie about dancers. There are some good actors in the movie, but overall it's boring.
The Turning Point Quotes
| | |
| --- | --- |
| Emma: | How old were you when you started taking lessons? |
| Deedee: | Seven. |
| Emma: | I was eight. Our bodies always objected, didn't they? The thing is-- you didn't stick around long enough to find out they revolt. |