Two of a Kind
(1983)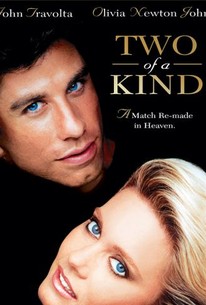 Movie Info
John Travolta and Olivia Newton-John attempt to rekindle the box office sparks of Grease with this screwball fantasy comedy. The tale begins during a golf match in heaven among four angels --Charlie (Charles Durning), Earl (Scatman Crothers), Gonzales (Castulo Guerra), and Ruth (Beatrice Straight)-- who have been in charge of heaven for the last twenty-five years. But their game is interrupted by God (voice of Gene Hackman), who has now returned to the office and doesn't like what he sees down on earth. God wants to order up another flood and start all over again, but the angels persuade God to reconsider, reasoning that if a typical earth man can reform, it would prove that all mankind is capable of it. God agrees to the scheme and the typical man selected is Zack Melon (John Travolta) a failed inventor who, threatened by loan sharks, decides to hold up a bank. Zack points his gun at bank teller Debbie Wylder (Olivia Newton-John) and she gives him all of the money. But when Zack peers into the sack after the robbery, he sees that Debbie has substituted bank deposit slips for the cash and realizes that she has kept the money for herself. Zack tracks her down to reclaim his stolen money and the two fall in love.
Critic Reviews for Two of a Kind
Audience Reviews for Two of a Kind
Olivia Newton-John was one fine piece of Ace! I remember going to the movies to see this move at the theater when I was 9 or 10. Little did I know it was some romantical BS. To this day my fragile little mind recalls one line from this movie...John Travolta tells ONJ that you "Hold the Nuts while you screw". I believe this was the beginning of my sexual education. Thank god for Skinemax!
Chad Roesti
Super Reviewer
Two of a Kind Quotes
There are no approved quotes yet for this movie.