Unfaithfully Yours
(1948)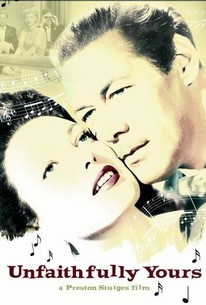 Unfaithfully Yours Photos
Movie Info
Preston Sturges' Unfaithfully Yours is a typically witty and wild screwball comedy starring Rex Harrison as a symphony conductor named Alfred de Carter who is convinced his wife (Linda Darnell) is having an affair. During one of his concerts, Alfred begins planning three different ways of solving the problem -- including murder -- setting each to a different classical piece. Sturges' script and direction are lively and the actors are perfectly cast, capable of wringing all the humor, both physical and verbal, out of the story. Despite the artistic success of the film, Unfaithfully Yours was unsuccessful at the time of its release, yet it was well-regarded by critics and film buffs. It was remade in 1984, featuring Dudley Moore in the lead role.
Critic Reviews for Unfaithfully Yours
Audience Reviews for Unfaithfully Yours
½
Another supposed all out comedy from legendary director Preston Sturges leads me to the same conclusion I reached with The Palm Beach Story: comedy wasn't all that evolved in the forties. Much like the romantic comedy filth of today, the forties and fifties were overcrowded by overtly painful films that were not only unfunny, but given recognition where it was not due. For much of the movie Rex Harrison plays the flirtatious role of a devoted husband with an air of feminine wiles and frivolity, better showcased in his performance as Professor Henry Higgins in My Fair Lady opposite Audrey Hepburn. Here he is shown as a conductor, brilliant and lauded by music lovers and his young wife, who he spoils endlessly. As the plot "thickens" Harrison's character is told his wife is unfaithful, and during a few dramatic dream sequences we are shown the many situations in which he would deal with his suspicions towards his wife. The first is the only truly funny and original part of this entire film, starting slowly much like the rest of this drag fest, but quickly gains momentum, turning into one of the biggest surprises of Post Code Hollywood I've ever seen. If only the whole movie could attain such excellence, it would be a decent black comedy. Instead we're pained with over the top slapstick and dialogue that irks anyone of the wit persuasion, especially the ending, which is glosh galore. Steer clear of Sturges.
Spencer S.
Super Reviewer
A delightfully dark comedy
Ken Stachnik
Super Reviewer
Another romantic comedy, pretty average.
Unfaithfully Yours Quotes
There are no approved quotes yet for this movie.