Vampyres
(1974)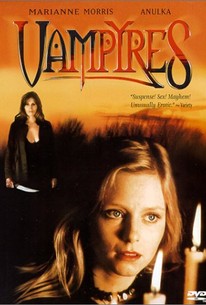 AUDIENCE SCORE
Critic Consensus: No consensus yet.
Movie Info
This Hammer-flavored gothic outing (originally titled Daughters of Dracula) involves the sanguinary exploits of two female vampires (Marianne Morris and Playboy centerfold Anulka) who bed down together in a queen-sized coffin by day and seduce male and female victims by moonlight, leading to lots of steamy soft-core sex scenes followed by copious amounts of the red stuff. One of their victims (Murray Brown) falls in love with Moore, even as he grows increasingly anemic due to her nutritional requirements. Moody photography and lush sets enhance the film's fatally hedonistic atmosphere, and the stars assay temptingly feline performances that render their characters' seductive powers chillingly real. This was a late entry in the European "lesbian vampire" sub-genre, a 1970s phenomenon made popular by such filmmakers as Jean Rollin and Jess Franco that made a comeback in the late 1990s. ~ Cavett Binion, Rovi
Critic Reviews for Vampyres
All Critics (4) | Fresh (4) | Rotten (0) | DVD (2)
Although its moments of violence are few and far between, Larraz has created a much more aggressive and outlandishly gruesome vampire film than most of his contemporaries from the period.
To quote [director Joseph] Larraz himself: "Naked girls and lots of blood, that's what Vampyres is about."
Audience Reviews for Vampyres
½
Decent 70's vampire film that used to be in my "Nooooooo!" list until i watched it again! It's about two vampire women who lure male drivers back to their massive house for sex,only for the blokes to get bitten the shit out of and drained of there blood! The scenes where the victims get attacked are pretty good and gory and theres a couple of good "erotic" scenes that at the time were probably quite shocking. Not great but still, a pretty good old school vampire film.
½
Vampyres is one of the movies from the early '70s sex-horror female vampire sub-genre. In this respect, Jose Ramon Larraz film is reminiscent of Jean Rollin's work. But while Vampyres contains all the usual staples of Rollin's films ? ultra low budget and average at best acting, lyrical imagery and sensuality, interesting female leads and negligible male supporting cast ? it differs in that it contains much more bloody violence. And this is no bad thing. The story is very straightforward. Two female vampires lure unsuspecting men back to their remote mansion, where the unfortunate chaps meet with a bloody climax (no pun intended). While the dialogue and acting is, at times, shaky, the movie does conjure up some effective sequences. The photography captures the contrasting imagery. From the haunting scenes of the vampires running through the countryside to the visceral violence when they kill. The sex and violence is inter-linked. The vampires cannot have one without the other. And this results in unforgettable images of the vampires sucking the blood out of a comatose man's arm then sharing it via French kisses! Nice little touches like the fact that the vampires sleep with their eyes open are used to good sinister effect too. Overall Vampyres is a good example of this type of film. Don't expect too much from plot and acting but if you like left-field exploitation movies with a little bit of style then give this a whirl.
David Ladd
Super Reviewer
Classic 70's British sex/horror romp..sally faulkner is stunning..
Mark Evans
Super Reviewer
Vampyres Quotes
There are no approved quotes yet for this movie.