Venom
(1981)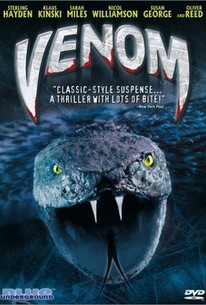 Movie Info
Klaus Kinski and Oliver Reed both look like they'd rather be anywhere else than on the set of Venom. The plot concerns -- surprise -- a deadly black mamba snake (in fact, it's billed as the world's deadliest). A little boy discovers the serpent, shortly before he's nabbed by a bunch of human snakes: terrorists who intend to hold the kid and his family for ransom. One by one, the villains are dispatched by the mamba, who unfortunately plays no favorites so far as victims are concerned. The film's silliest elements are those snake's-eye-view subjective shots. Based on a novel by Alan Scholefield, Venom appears to have been filmed during someone's lunch hour.
Audience Reviews for Venom
Interesting idea for a horror thriller, Venom is a fine little gem, one that could have been better, but still manages to be worth seeing. The concept is pretty simple, yet it works. The film has its limitations, but what makes this one stand out is the role of Klaus Kinski. He made the film quite enjoyable, and this is a different type of nature gone wild film because it's set in the city instead of the middle of nowhere or in nature where these films are usually set. Although nothing remarkable, this film is a must for fans of the genre. I thought that this was a well executed film considering the fact that real Black Mambas were used in the filming of this picture. The acting is good, never great, and the plot is very good. Although I felt that the film could have used a rewrite or two, Venom definitely is a good time, and is a film filled with chills, suspense and terror. Although not a great horror film, this is nonetheless a pleasant entry in the genre. The film manages to be entertaining despite its slight script limitations, and you wonder how good this film could have been. As a whole, Venom is fun, chilling, and for those who hate snakes will certainly terrifying. Although nothing too original is ever really displayed on-screen, the story of kidnappers being held hostage by a Black Mambas and surrounded by cops is interesting for the most part, and is what keeps you interested. Add to that a solid performance by its lead actor and you have good flick.
It feels kind of like Panic Room, except instead of Dwight Yoakam it has a Black Mamba. With a cast like Kinski, Reed and Hayden I can only the onset shenanigans were insane. Also notable for a couple reasons. *Kinski decided to do this instead of Raiders (he said Spielberg's script was "moronically shitty") *it's amazing DP Gilbert Taylor (Star Wars, Hard Days Night and Dr. Strangelove) *It inspried QT to put a mamba in Kill Bill vol. 2 *It's Sterling Hayden's last film appearance
Ken Stachnik
Super Reviewer
I saw this as young kid on a Friday night and it scared the living daylights out of me for years. Okay it will be as cheezy as hell now but the way the film is directed at the time was legendary. It was creepy, it was full of suspense and the way Reed gets it at the end will give you the willies even today....great film.
Barry Lappin
Super Reviewer
Venom Quotes
There are no approved quotes yet for this movie.