Walking Tall
(1973)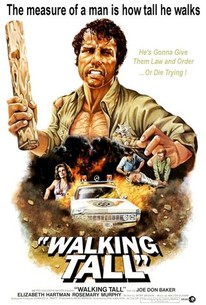 Movie Info
This film is the unabashedly manipulative story of real-life Tennessee sheriff Buford Pusser. Pusser can either be regarded as a tireless champion of justice or a baseball-bat-wielding hooligan. When the town baddies seek vengeance by killing Pusser's wife, the you-know-what really hits the fan!
Critic Reviews for Walking Tall
Audience Reviews for Walking Tall
Forget the remake featuring The Rock,cause it doesn't even compare to the original. However,this was weirdly marketed as a right wing screed upon its initial release in 1973(and became a surprise runaway boxoffice hit especially a huge following within the drive-in theatre circuit in the South where some theatres ran it for over a year).Walking Tall was a really tragic,graphically violent post-noir film based on the life and times of Tennessee county sheriff Buford Pusser. However,Joe Don Baker gives a riveting and powerful performance as Pusser who was determined and hell bent to force of crime and corruption out of his town at great personal expense,not to mention taking on the syndicate(The Dixie Mafia). Directed with an intentionally crude force by Phil Karlson,one of the toughest filmmakers of the 1950's and 1960's. Here,the film's grimness doesn't let up and neither does the scenes of raw language and strong graphic violence that gave this film a strong influence of the racial stride and hatred that went on in the South. Interesting note about this picture...It was produced by BCP Productions which was Bing Crosby's production company(yes folks,Bing Crosby was still around in 1973)and theatrically released through Cinerama Releasing Corporation. The theme song was done by none other than the great Johnny Mathis. Elizabeth Hartman(plays Pusser's wife) and Noah Beery also star in this runaway boxoffice hit which was one of the sixth highest grossing films of 1973 behind "The Exorcist", "American Graffiti", "Enter The Dragon",and "The Sting". The success of Walking Tall spawned two sequels "Walking Tall Chapter 2"(1975),and "Walking Tall:The Final Chapter"(1977),a short-lived television series and two prequels starring Dewayne "The Rock" Johnson and Kevin "Hercules" Sorbo.
Mister Caple
Super Reviewer
I saw this after seeing the remake, and I have to say that this one is a lot stronger. I really liked it, it's realistic, even with the violence. The beginning is a little slow, but it doesn't matter, the rest is great. I really liked this movie.
½
Southern-fried justice, holding a big stick. This film was a delicious slice of Americana kick-ass and Joe Don Baker is amazingly effective as the human embodiment of a Timex watch, playing a real dude Bufford Pusser. Although this film is longish, it doesn't drag and it is jam packed with content and doesn't really loose momentum as it barrels down a hill made of Buford's desire to take the law into his own hands. AND it has a car chase, with a pick-up and a squad car, how great is that. There are some glaring political incorrectness that borders on offensive but it comes with the time as this film's era sticks out like a me at a hip-hop. Although the filmmaking was intentionally crude you can see the boom mic peeks into shots and hang out more times than you can count. That being said it's a classic. See this and for get about Dwayne Johnson and Kevin Sorbo, their films don't even have Bufford Pusser, and he's some kind of guy.
Patrick Dolan
Super Reviewer
Walking Tall Quotes
There are no approved quotes yet for this movie.