Warlock
(1959)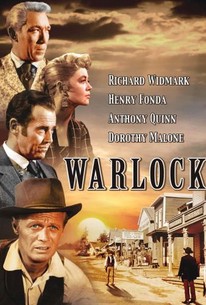 AUDIENCE SCORE
Critic Consensus: No consensus yet.
Movie Info
The town of Warlock is plagued by a gang of thugs, leading the inhabitants to hire Clay Blaisdell, a famous gunman, to act as marshal. When Blaisdell appears, he is accompanied by his friend Tom Morgan, a club-footed gambler who is unusually protective of Blaisdell's life and reputation. However, Johnny Gannon, one of the thugs who has reformed, volunteered to accept the post of official sheriff in rivalry to Blaisdell; and a woman arrives in town accusing Blaisdell and Morgan of having murdered her fiance. The stage is set for a complex set of moral and personal conflicts.
Critic Reviews for Warlock
Audience Reviews for Warlock
½
Adult western that deals with the threat of mob rule and a crisis of conscience for several of its characters. Henry Fonda is the nominal lead and he is fine as usual but the best performance comes from the great Richard Widmark who is tormented by a very basic struggle.
A small town terrorized by outlaws hires gunman Henry Fonda as unofficial lawman but when the bodies start to mount up, local cowpoke Richard Widmark steps in as sheriff causing tensions for all concerned. Essentially a variation on the OK Corral story, Fonda's character is probably far closer to a true portrait of Wyatt Earp than his more romanticized counterparts. Although on the surface a black hat vs white hat generic western, it's more of a series of varying shades of grey hats in the ring, as each man has a shady past and ulterior agenda. Fonda is a man of violence that tries to play by the rules but has no illusions as to what his job entails; Doc Holliday style sidekick Anthony Quinn plays both sides of the fence off against each other but has very sketchy motives; Richard Widmark is initially torn between his inherent sense of right and wrong and loyalty to his friends but comes to realise the time for vigilante justice is over. The larger theme for the story is the passing of the old west from lawlessness to order and despite the rather formulaic approach, some well written characters and quality leading men make for a cut above the usual horse opera.
Warlock Quotes
There are no approved quotes yet for this movie.