The Warriors
(1979)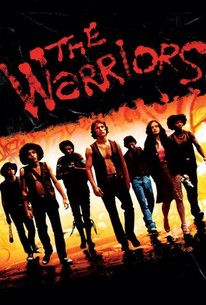 Movie Info
Walter Hill's hip, super-stylized action film unfurls in a dystopian near-future, when various gangs control New York City. Each gang sports a unique moniker ('The Warriors,' 'The Baseball Furies,' 'The Rogues'), with a costume underscoring its "theme"; each, in turn, is also responsible for one geographic area. Hill sets up the landscape as a massive, violent playground - replete with bridges, vacant subway tunnels, parks, abandoned buildings and the like, all ripe for exploration and adventure. As the tale opens, the titular Coney Island has traveled to the Bronx to attend a city-wide meeting of all gangs; at that event, however, the psychotic leader of a rival gang, The Rogues (David Patrick Kelly of Dreamscape) assassinates the head of the city's foremost gang, but The Warriors are pegged as culpable. This sends the gang fleeing through the labyrinthine city. With every thug in Manhattan in vicious, homicidal pursuit, they must also overcome all obstacles in their way. Throughout, Hill keeps the onscreen violence absurd, exaggerated and unrealistic, downplaying death to an extreme degree; despite this fact, the film sparked a massive amount of controversy and an ugly backlash for allegedly inciting violence and destruction in several theaters where it initially played. James Remar, Michael Beck and Deborah Van Valkenburgh lead the ensemble cast. ~ Nathan Southern, Rovi
Critic Reviews for The Warriors
Audience Reviews for The Warriors
Ok maybe I missed something? I'm not quite sure about the cult status for this. It's a decent film with a young cast, and probably quite different at the time it was made. However it has a very simple plot, less fighting than I expected and a bit repetitive. I liked the almost comic "uniforms" for the different gangs, some of the fight scenes are pretty good, but overall I was expecting a lot more.
Oy vey! Such a reputation this film has! It's high time (it's only been about 30+ years!) I finally got around to it. And so what's the hoopla been all about? Well first there's the obvious plot about one tough street gang's difficult journey across The Big Apple (the most dangerous city on Planet Earth, baby!) ... at night ... and years before Disney went and cleaned up 42nd Street. But mainly what goes on is that instead of like the 1950's or 60's wherein the kids were blamed for being hooligans outright, here it's the dilapidated urban landscape that makes really good hearted kids into the animals society fears. Whatever the supposition it was cool watching nice kids acting like they was bad, and checking out the 70's idea of tough fashion choices. Fun.
Kevin M. Williams
Super Reviewer
½
I realize that the filmmakers weren't trying to make a completely serious or realistic film, but at the same time, it's hard to deny the debt this film owes to history and mythology. It's one of those stories you can either take at face value, read deeper meanings into it, or both. Regardless, you can still enjoy it and be entertained. I've got a bias towards this film that I need to state upfront. I like 70s crime and action movies. Gritty location photography is awesome, especially urban location photography. I liked the atmosphere of paranoia and tension surrounding things. It reminded me a lot of Assault of Precinct 13 (the original), as well as later films (that I saw before I saw this one) such as Escape From New York and Judgement Night. As I mentioned above, you can read as little or as much into this as you want, and it would be totally fine to do so. By reading into it, this film can rise above its place as a well-made B-Movie, and it can becomes something more, something a scholar could use for some sort of study or something, such as cinematic representations of gang warfare and race relations. While not great the acting is actually pretty decent. Michael Beck is great, and David Patrick Kelly is the definite scene stealer. I don't know what it is, but seeing a black guy with a fro wearing Native American garb brought a smile to my face. Yet again this is something that could be analyzed to death. This wasn't quite as gritty or violent as I thought it might be, but I didn't actually mind too much. As much as I appreciate visceral shocking violence, I much prefer subtlety and more downplayed mayhem. I better stop before I ramble too much more. Bottom line, if you haven't seen this yet, you probably should. It's a definite cult classic that deserves all the praise it gets.
Chris Weber
Super Reviewer
The Warriors Quotes
| | |
| --- | --- |
| Swan: | When we get to coney island....then we're home. |
| | |
| --- | --- |
| Ajax: | I'll shove that bat up your ass and turn you into a popsicle. |
| | |
| --- | --- |
| D.J.: | Be lookin' good, Warriors. All the way back to Coney. Ya hear me, babies? Good. Re-e-al good. Adios. |
| | |
| --- | --- |
| Luther: | Nooooo!!! It was the Warriors!! |
| Luther: | No! It was the Warriors! |