Weird Science
(1985)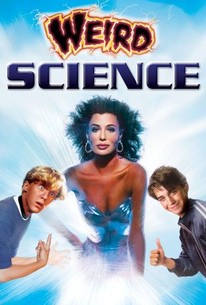 TOMATOMETER
AUDIENCE SCORE
Critic Consensus: Hardly in the same league as John Hughes' other teen movies, the resolutely goofy Weird Science nonetheless gets some laughs via its ridiculous premise and enjoyable performances.
Movie Info
John Hughes's third directorial effort, Weird Science, follows in the tradition of his previous teen-centered films, Sixteen Candles and The Breakfast Club. Anthony Michael Hall and Ilan Mitchell-Smith play the wannabe hipster Gary and his nebbish weak-willed best friend, Wyatt, a pair of high-school geeks who are hapless with members of the opposite sex. Using Wyatt's computer, they create what they believe is the ideal woman. A lightning storm brings that woman to life, and she takes the form of Kelly Le Brock. Lisa sets about building their self-confidence, but trouble begins brewing when Wyatt's cruel, military-minded older brother, Chet (Bill Paxton), begins to realize that something is not as it should be. Hughes would finish his cycle of high-school themed films with his next movie, Ferris Bueller's Day Off. ~ Perry Seibert, Rovi
Critic Reviews for Weird Science
Audience Reviews for Weird Science
½
Remember those awkward teenage years? Well if you don't here's a work that'll fully immerse you in all those forgotten feelings of being out-of-place. Penned and directed by John Hughes it's a cross between Bewitched and Frankenstein wherein two youths fabricate their dream woman on a computer and she comes to life, complete with a full set of do anything powers. It's really bad/sad, the stretches Hughes makes, all in the name of wish fulfillment for 12 to 14 years olds boys. You will feel awkward again ... just watching it.
Kevin M. Williams
Super Reviewer
A funny and remarkable comedy. Very adolescent level, but still a good entertainment. Fresh.
Lucas Martins
Super Reviewer
½
"Weird Science" is as dumb as it's title suggests, but in the best way possible. John Hughes, before making the classic films that he did, strted off with this film, and to me, it hit much more than it missed. As two unpopluar high school boys decide to build the perfect girlfriend out of a computer, all hell will eventually break loose. I thought this film was extremely fun for what it was, but the script was pretty lame at times. However, for that reason alone, I actually lied the movie even more. I will never call this a great film, but I did really like it. It's humour is juvenile, it's plot is just the same, and the performances by the kids are hilarious to watch. In the end, I found myself laughing really hard, so in my eyes that warrants a big recommendation.
Weird Science Quotes
| | |
| --- | --- |
| Chet Donnelly: | You stupid butt wad |
| Chet Donnelly: | You stupid butt wad. |
| Chet: | You're stewed, buttwad! |
| Wyatt: | Who me? |
| Wyatt: | Me? |
| Chet Donnelly: | Do you know what time it is? |
| Chet: | Do you know what time it is? |
| Chet Donnelly: | Uhh....2? |