When a Stranger Calls
(1979)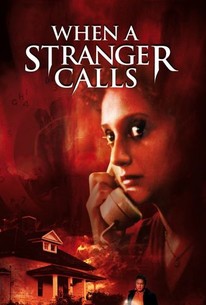 When a Stranger Calls Photos
Movie Info
In this thriller, a baby-sitter is terrorized by an anonymous telephone caller who turns out to be a particularly persistent serial killer. When a stranger calls to ask, "Have you checked the children lately?" teenaged sitter Jill Johnson (Carol Kane) is understandably spooked. After a series of increasingly creepy calls culminates in a request for "your blood...all over me," Jill learns from the police operator that the man is calling from inside the house. One narrow escape and two dead children later, the police capture British maniac Curt Duncan (Tony Beckley). Several years later, the killer escapes from a mental institution and plagues Tracy (Colleen Dewhurst), a hard-drinking New Yorker. Foiled by John Clifford (Charles Durning), the same cop who investigated the original case, Duncan sets his sights back on his original victim, Jill Johnson, who, now married and out to dinner with her husband, has left her own young children at home -- with a baby-sitter. When a Stranger Calls helped inspire Drew Barrymore's famous opening scene in Wes Craven's Scream. Kane, Durning, and director Fred Walton would return for 1993's TV-movie sequel, When a Stranger Calls Back. Beckley died a year after the original film's release.
Critic Reviews for When a Stranger Calls
Audience Reviews for When a Stranger Calls
½
This is like two completely different movies in one, only the first and last 20 minutes are much tenser and vastly superior to the 60 minutes in between - which sadly shifts its focus to the killer and clearly wants to be more like Peeping Tom than Halloween or Black Christmas.
Carlos Magalhães
Super Reviewer
This was originally based off of a short, which is the first twenty minutes of the film, and it obviously shows. The creators tried to build off of it, but lost all the suspense by shifting the genre from horror to dull thriller. While I believed the film would be about a cat and mouse game between a babysitter and a killer on the phone, that's only the first part of the film. The rest of the film revolves around the killer and his escape from a sanitarium. Instead of making him creepy and perverted to an extreme degree, much of the film humanizes him by showing his exploits after he escapes. The film does share with us how he has killed, and the depravity in those actions, but we see none of it. How are we, the audience, supposed to be scared of someone who we constantly see being afraid, alone, and pathetically misunderstood? There's absolutely nothing tense or thrilling about the intermingling middle hour of this film. Even when Charles Durning's character tracks the killer down and blows a door off its hinges, it's more comical than anything. The very end is at least thrilling, but it comes too little too late after sitting through the tiresome slog of the middle.
Spencer S.
Super Reviewer
When a Stranger Calls is a pulse pounding horror film. This is one of those films that use suspense to build effective horror to create the tension on-screen. Director Fred Walton crafts a tension filled horror film that combines suspense, terror with a few slasher film elements and crime film rolled into one film. The thing that impressed me about When a Stranger Calls is the fact that director Fred Walton keeps the gore on a down low, unlike so many other horror films in the slasher genre of the 1980's, this one relies more on the suspense factor to build up the terror and tone of the entire film. Like with every viewer, I have to say that the first twenty minutes of this film are the most terrifying and intense; ion other words, it starts the film off with a bang. I enjoyed this film and I think it's a very good concept for a horror flick. I think the fact that the film limits its gore factor much like Halloween did, adds a lot more credibility to the film. The acting is good here, and the actors deliver memorable performances. When a Stranger Calls is different, and it's a film that blend psychological horror with a few slasher elements, but isn't a straight forward bloodbath. When a Stranger Calls is a terrific horror flick that uses traditional horror elements to create the horror that we see on-screen. The result is a terrifying and memorable film
When a Stranger Calls Quotes
| | |
| --- | --- |
| John Clifford: | [to Tracy, about Curt's murders] After the coroner's investigation the bodies were taken to the mortuary where the undertaker took one look at them and said their bodies couldn't be reconstructed for the burial without six days of steady work. Then he asked what had been the murder weapon, because looking at the mess in front of him he couldn't imagine what had been used. The coroner told him there had been no murder weapon. The killer had used only his hands. |
| | |
| --- | --- |
| Curt Duncan: | Have you checked the children lately? |