Willard
(1971)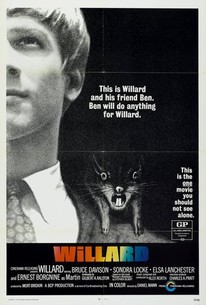 Movie Info
In this horror film, the young, disturbed Willard Stiles befriends a pair of rats and trains them to brutally attack human beings. When his boss steps over the line, Willard sicks his deadly horde of flesh-eating rats on him. However, Willard's greatest allies become his worst enemies.
Critic Reviews for Willard
Audience Reviews for Willard
If you read the rats as a metaphor for a misfit's innermost dark impulses (like Psycho with rodents), then you will find more to enjoy in this trashy, clumsy and poorly-directed movie that can't even make sense of how Willard learns to communicate with his disgusting little friends.
Carlos Magalhães
Super Reviewer
Willard is an interesting horror tale about a social misfit who has a hard time and his only friends are rats. This is an eerie little horror yarn that is quite creepy, especially if you hate rats. The performances here are very good, and the lead actor who plays the title character, Bruce Davison is terrific and he gives the character a certain menacing charm that keeps you involved. Daniel Mann's direction is immaculate, and he crafts something unique and quite cheesy at the same name. However it works with effective results. The film has a dark atmosphere that is almost melancholic and helpless, which sets your distractions away from the cheesy notion of attacking rats. Aside from that, there are some impressive names like Ernest Borgnine. Willard is an entertaining picture that is sure to thrill horror fans and it boasts a well plotted story with a great cast and awesome direction. If you love old horror films that are somewhat forgotten, then give Willard a shot. This is a skin crawling affair that will certainly make you feel uncomfortable. This is a highly entertaining film that delivers s the thrills and chills. Willard has its imperfections, but due to a strong cast and well written script, this is a standout horror film that offers up a memorable and tense viewing experience. I really loved the film, and if you want a film that will give you the willies, then Willard is such a film. This is among the finest horror films of the 1970's and it is quite different as well. This is a film that deserves to be rediscovered and it really brings a tense, chilling atmosphere to the viewer. If you hate rats, then this will certainly make you feel uncomfortable from the first frame onwards. However it is a must see for sheer terror and great acting.
A pretty good cast, but the movie isn't very scary at all, in fact it's kind of funny at times. I liked it anyway.
Willard Quotes
There are no approved quotes yet for this movie.