Winchester '73
(1950)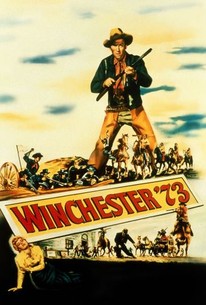 Movie Info
Several Hollywood insiders felt that Jimmy Stewart had overestimated his box office appeal when he agreed to appear in Winchester '73 not for his usual salary, but for a percentage of the film's gross profits. No one was doubting Stewart's sagacity when Winchester '73 proved to be one of the most successful westerns in years, and soon every major star was jumping on the profits-percentage bandwagon. The film itself is the story of a longstanding blood feud; the film's centerpiece is a prized Winchester rifle. Hardbitten loner Stewart rides into Dodge City, where he participates in a Fourth of July shooting contest to win the coveted rifle. Stewart's principal opponent is surly Stephen McNally, for whom Stewart holds an unexplained hatred. Stewart wins, but McNally steals the rifle and heads for the hills. As Stewart conducts a long, grim search for the stolen weapon, it passes through several hands, notably the grimy ones of outlaw Dan Duryea. After the gun has come full circle, we learn that Stewart is McNally's brother, and that McNally had killed their father. The errant brother is himself killed in the final shootout while using the selfsame Winchester. Winchester '73 was not only a goldmine at the box office, but it also established a harmonious relationship between James Stewart and director Anthony Mann, who would guide Stewart through two subsequent no-nonsense adventure films, Bend of the River (1952) and The Far Country (1955). Based on a story by Stuart N. Lake, Winchester '73 would be indifferently remade for TV in 1967.
Critic Reviews for Winchester '73
Audience Reviews for Winchester '73
½
One part Western (the visuals), one part noir (the script), this is one different take on the genre. Rock Hudson as an Indian, Tony Curtis as, well, Tony Curtis, a mythical firearm that drives men crazy, and reheat the Redenbacher's, cause this is good viewing.
Kevin M. Williams
Super Reviewer
½
Winchester 73 is one of those perfect classic Westerns (High Noon, The Searchers, Stagecoach, etc.) that never disappoints or lets up from the moment you pop in the disc. The depth and complexity of James Stewart's performance is the star here, but for me, film noir auteur Anthony Mann's textured, high contrast black and white photography is a runner up, especially in the night scenes, which have the haunting and three dimensional glowing quality of the best film noir classics. Thirdly, the perfectly cast cracker jack supporting players, all hold the screen with the masterful Stewart in his prime, full of veterans like Grandpa Walton (Will Geer), and newcomers circa 1950 like Shelly Winters, Tony Curtis and Rock Hudson. The script is subtle using natural, conversational dialogue. The acting style matches the script to a t, with almost Stanislavski-esque performance 'method' . Don't expect the wacky buddy comedy or over the top cackling villainy of some of the other later day (post WWII) Westerns. It's a well told story that wraps up perfectly and takes its time to make its big shocking revelation, adding resonance to the tragic wrenching conclusion. The 93 minutes fly by with the wall to wall excellence on display here.
Josh Morris
Super Reviewer
½
Winchester 73 is fine, light-hearted fun. Full of charismatic performances and a simple but functional story, it never fails to please or entertain, even if it's not exactly riveting.
Kyle Fowler
Super Reviewer
Winchester '73 Quotes
| | |
| --- | --- |
| Johnny "High Spade" Williams: | Well, that's the way it was. The old man sired two sons. One was no good... never was any good. Robbed a bank... a stagecoach. Then when he came home and wanted to hide out, the old man wouldn't go for it. So Dutch shot him... in the back. |