The Women
(1939)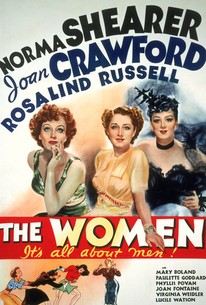 TOMATOMETER
AUDIENCE SCORE
Critic Consensus: A feast of sharp dialogue delivered by an expertly assembled cast, The Women makes the transition from stage to screen without losing a step.
Movie Info
Mary Haines (Norma Shearer) can't believe her husband's having an affair with salesgirl Crystal (Joan Crawford). But when Sylvia (Rosalind Russell) and Edith (Phyllis Povah) deliver the gossip firsthand, Mary heads to Reno for a divorce. En route she meets Countess de Lave (Mary Boland) and Miriam (Paulette Goddard), who coincidentally is having an affair with Sylvia's husband. Once in Reno, the Countess finds another beau, Sylvia shows up for a divorce and Mary plots to win back her man.
News & Interviews for The Women
Critic Reviews for The Women
Audience Reviews for The Women
½
The concept and execution is very much of its time. (Other timely examples of comedy of manners include The Philadelphia Story and Trouble in Paradise.) The film featured all of MGM's biggest female stars: Norma Shearer, Joan Crawford, Paulette Goddard, Rosalind Russell, and Joan Fontaine. The story focuses on Mary Haines (Shearer) a wealthy wife and mother who discovers that her husband is cheating on her with a perfume girl (Crawford). Mary then decides to divorce him, goes to Reno to get said divorce (since this is 1939), and the rest of the film features partner switching, infidelity, scandal, and intrigue as other female characters face the same issues as Mary and her daughter. Though the casting gimmick makes for an interesting watch, and the film does focus on basic issues that women have, it's not revolutionary. The women all depend on men. Their issues all stem from men. Their livelihoods, interests, careers, and aspirations are constantly linked to the men around them, even though they are completely unseen. Even when the women are alone, men are their only obligation. Perhaps Clara Boothe Luce and screenwriter Anita Loos were trying to slipin some commentary about the lack of agency in women's lives. A more likely explanation is that executives thought a film solely about women wouldn't interest anyone unless it was solely about finding and keeping men. The one scene that is supposedly solely intended just for women viewers is a fashion show, which is the only color section of the entire film. Director George Cukor hated it so much that he tried to have it cut from the film. It definitely feels forced and kind of patronizing, since the entire sequence is a lengthy 10 minutes, and it does nothing for the plot. It's as if the film doesn't trust women to be entertained by wit and humor, and decided we needed a palette cleanser, which is obviously ridiculous. What the original has over all subsequent remakes is a sense of poise and sophistication. Norma Shearer wins because she is a woman of substance, who cannot be replaced by the sultry Joan Crawford. Shearer was clean and concise, and she was known as an actress for her historical roles up until the advent of Turner Classic Movies. Any remake is going to be subpar, because this is a film very much of its time, and we no longer possess the same views on sexuality, marriage, equality, or feminism that we did in the Depression era 1930s. Of course, this didn't stop the 2008 remake from happening.
Spencer S.
Super Reviewer
½
Much preferred to the Meg Ryan remake of this. I didn't enjoy that one so much I almost didn't want to watch this one at all! Thankfully, it was changed quite a bit from this original, and not in a good way - I think I will seriously have to lower my rating for that remake after seeing this one. It deserves to lose points for making this one seem like it would be crap! The main problem this one has is that it is over long and has too many characters to warm to all of them, really it could have been an hour or so shorter and would have been better for it. My favourites here were Joan Crawford and Norma Shearer. I gave this an extra half star just for Joan and that bathroom she sets up for herself! There are better old movies out there to watch, but this one definitely has it's moments and is worth a look.
Nicki Marie
Super Reviewer
Left me wondering why any man would step out on warm and beautiful Norma Shearer for creepy and conniving Joan Crawford. *Phenomenal cast includes Rosalind Russell, Paulette Goddard, Joan Fontaine, Hedda Hopper and Marjorie Main
Randy Tippy
Super Reviewer
The Women Quotes
| | |
| --- | --- |
| Countess DeLage: | L'Amour, L'Amour... |
| Countess DeLage: | L'Amour, L'Amour. |
| | |
| --- | --- |
| Crystal Allen: | There's a name for you ladies, but it isn't used in high society -- outside of a kennel. |