Year of the Dragon
(1985)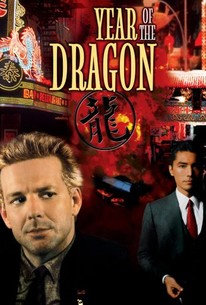 Year of the Dragon Photos
Movie Info
Best known for his 1978 film The Deer Hunter or perhaps the less-successful Heaven's Gate, director Michael Cimino turned to this fast-paced actioner set in an authentic (back lot) Chinatown. This thriller stars a rogue Polish-American cop (Mickey Rourke) out to not only keep Chinatown safe for the local consumers, but to dismantle its deep-rooted crime and drug cartels as well. No one backs the crusading cop in the latter objective, and as he faces a suave and wily crime boss (John Lone of The Last Emperor) and a libidinous newscaster (Ariane), he may be taking on more than he can handle. At least his wife thinks so, and the guys at City Hall think so -- but mayhem and murder will strew the streets with corpses before the smoke clears and the dust settles, and a vague, unresolved future sets in. ~ Eleanor Mannikka, Rovi
Critic Reviews for Year of the Dragon
Audience Reviews for Year of the Dragon
Many people claim that The Deer Hunter is Michael Cimino's only good movie. However, this is just as good if not better. Probably one of the greatest crime epics to ever be made, this really has it all. Mickey Rourke shows his muscle and stubbornness, his manliness is almost off the scale. It takes the concept of a one man war on crime and really puts it to a realistic test. You can't win anything without losing some too. The action in this movie is flawless, violent yet somehow incredibly tasteful. It's almost like a French Connection type of cop mentality thrown into Chinatown.
Conner Rainwater
Super Reviewer
Year of the Dragon is something of a little known masterpiece. It is well written by Oliver Stone, and directed by Cimino at a turning point in his career. The centre piece, however, is Rourkes performance, which was caught while he most likely was at the peak of his acting ability's. You will be totally blown away by the realism of his acting, and it's even more noteworthy that the film was made while Rourke was youthful while making this and was made to look more senior (that grey hair is dye). A heartfelt performance from an actor playing a cop with "scar tissue on his soul", will never be forgotten once seen. While the main character is far from perfect, it is just that which makes him believable as well. Stanley White is on a crusade and would die for his principles, which effects all those involved with him. It is a complex film, often talky, which is punctuated throughout with explosive violence, well shot with use of excellent set pieces. Bloody in places and above all gritty and realistic, in parts it is even beautiful. The film works on many levels from it's slow burn beginnings with emphasis on conspiracy to the final pay off on the dock yards. Well drawn characters are everywhere in this film, and it never losses its hard edge. Rourke has seen a much needed and deserved return in recent years. He may have lost his handsome good looks due to boxing and due to too many face lifts, but the guy will never lose his acting ability. We, the true fans, never gave up on this chance. And now he's finally gaining popularity with a new generation, who need to see and experience The Year Of The Dragon, To believe the hype. Also check out his other classics Angel Heart and Barfly.
Cassandra Maples
Super Reviewer
Not quite bad thriller of an obsessed cop takes on the Chinese mafia, determined to reassert America's supremacy at home, having failed in the East. John Lone should become a major movie star. Mickey Rourke gives a good performance. Director Michael Cimino has talent to burn... his work is smashing.
Dean McKenna
Super Reviewer
Year of the Dragon Quotes
There are no approved quotes yet for this movie.