The Yearling
(1946)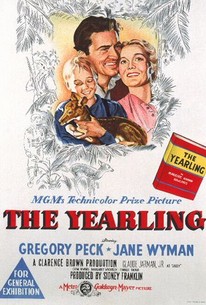 Movie Info
Based on the novel by Marjorie Kinnan Rawlings, The Yearling is set in post-Civil War Florida. Claude Jarman Jr. plays Jody Baxter, the lonely son of just-getting-by farmers Pa and Ma Baxter (Gregory Peck and Jane Wyman). With all of his siblings dead and buried, Jody yearns to have a pet of some sort. When Pa is forced by circumstances to kill a doe, the animal's fawn-the yearling of the title-is adopted by Jody. The boy's love for the animal does not alter the fact that the fawn is eating all of the Baxters' crops. Sadly, Pa tells Jody that he must kill the yearling before all their crops are destroyed. Jody can't bring himself to do this, so he sets the animal free in the wilds. Time and again, however, the yearling returns to the farm. Finally, Ma Baxter, who'd been against having the fawn on the property in the first place, shoots and wounds the animal. Now, Jody has no choice: rather than see his beloved yearling writhe in agony, he kills it. Though this results in a rift between himself and his family, Jody at last realizes that, by taking the responsiblity of saving the farm at the expense of his own feelings, he has also taken the first step towards manhood. He himself is a "yearling" no more. MGM had intended to film The Yearling in 1941 with a different cast and director, but a series of personality clashes delayed production for five years. Watching the inspired performances of Gregory Peck, Jane Wyman and Claude Jarman Jr., it is nearly impossible to imagine the film with its originally intended cast of Spencer Tracy, Anne Revere and the unknown Gene Eckman. The studio had also intended to lens the film on location in Florida, but in the end it proved more practical and expedient to shoot in the studio and its environs. Oscars went to the Technicolor photography of Charles Rosher, Leonard Smith and Arthur Arling, and to the art direction/set decoration work of Cedric Gibbons, Paul Groesse and Edwin B. Willis. Originally released at 128 minutes, the film was reissued in a butchered 94 minute version; steer clear of this one and opt for the still-available original.
Critic Reviews for The Yearling
Audience Reviews for The Yearling
½
A bit on the barfy side. A young man decides to raise a deer and becomes a man. Let's forget about this one, shall we?
John Ballantine
Super Reviewer
WOW! FANTASTIC! Good thing OZ was made in year 1939, because that would have stolen the prize but, I have to say that this movie is comparable to the Wizard of Oz!
½
Wow... I so cried at the end.
Leigh Ryan
Super Reviewer
The Yearling Quotes
There are no approved quotes yet for this movie.