Mystery Train
(1989)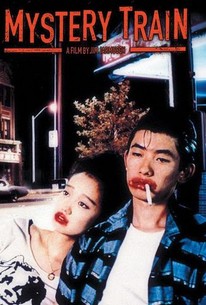 Movie Info
A tacky, low-rent Memphis motel dedicated to Elvis Presley is the setting for this anecdotal comedy-drama. The film tells three overlapping but distinct stories taking place over the course of one evening, featuring foreign tourists, criminals on the run, and the spirit of the King himself.
Critic Reviews for Mystery Train
Audience Reviews for Mystery Train
Another classic from Jarmusch with the backdrop of Memphis and featuring great performances especially from Mr. Screamin' Jay Hawkins.
Graham Jones
Super Reviewer
A simple tale, told in three parts, of three groups of people who converge on the same flea-bag hotel in Memphis. The characters are eccentric, and the three tales are held together by one comically executed event in the early morning hours. This film is worth it just to see Screamin' Jay Hawkins as the desk clerk at the hotel, but there are other musicians who make appearances as well in this homage to the Memphis music scene. Even a young Steve Buscemi makes an appearance here. The humorous moments are subtle, and the story is told with a certain amount of pathos that steadily draws the viewer in until we actually care what happens to these people. Okay, maybe not for the clowns in the third segment, but for most of them, anyway. A lot of the area where this was filmed has changed since then, so this can be seen as preserving a bit of the history of Memphis as well. One of Jim Jarmusch's early efforts, it is a well crafted film and one this viewer enjoyed.
Mark Abell
Super Reviewer
Mystery Train was capable of much better. It's divided into thirds; the first portion is the best, far and away. The Japanese couple are the richest characters, have the best dialogue, and experience the most interesting situations. The second portion is uninvolving, with a couple of gleaming moments to be taken from the chaff. The third is just dumb. The fact that these three stories overlap time is a purposeless gimmick - something to tie these incongruous tales together. Ideally, you'd do best just watching the first forty minutes and shutting the movie off.
Drew Smith
Super Reviewer
Mystery Train Quotes
There are no approved quotes yet for this movie.