Revolution
(1985)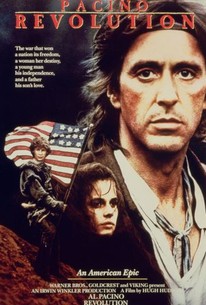 Movie Info
After his son has been captured and brutalized by a British officer, an immigrant trapper (Al Pacino) becomes compelled to join the fight against the British in the American Revolutionary War.
Critic Reviews for Revolution
Audience Reviews for Revolution
Wow, New York really has has Italian-Americans longer than America's had independence. Come to think of it, by 1985, America still had Italian-Americans before it had its independence, because, here we are, a couple of centuries later, back to square one having a film about "our" American Revolution done by a Brit, and not just any Brit, but the guy who directed "Chariots of Fire", and that film was so British that it probably should have won Best Foreign Language Film (Certainly more than it should have won Best Picture). As if that's not bad enough, this film is not only handled by a Brit, but features Canadians, Germans and, well, more Brits. It doesn't help that, by '85, Al Pacino was fresh off of playing in "Scarface" (Granted, he did it '83, but he didn't do anything the following year, so it was still relatively fresh), and considering that he's putting on an accent, it's hard to not go into this with his being Cuban fresh on the brain... if you're either as crazy as Tony Montana or begging for something as crazy as the final act of "Scarface" to happen in this, just so it would be livened up. No, this film isn't that bad slow, but still, come on, this is, again, the guy who did "Chariots of Fire", a film so slow (It's almost as slow as it is British) that even the running was in slow-motion. Well, I suppose that when you get a Brit to do something of this dramatic caliber, you can expect plenty of dryness, as well as silliness if the film being made is a comedy or, well, this drama. No, again, this film isn't that bad, though make no mistake, it's not without plenty of faults, and enough for it to collapse, maybe not as all-out bad, but, ever so unfortunately, to mediocre, though it stands locked in that limbo, thanks to some strengths that keep it going. Undeniably, the film is handsome, with Bernard Lutic's cinematography absorbing quite a bit of color that, on certain occasions, boasts fine beauty to break up a consistent degree of attractiveness that really keeps your eyes locked on the fine production designs. Now, the production value on the film isn't all that stellar, yet it does set the era and environment with a fair amount of effectiveness, as well as a bit of appealing niftiness that will, in a few spots, give the film genuine sweep, something that summons a degree of investment, made all the stronger by something that is consistently engaging: the performances, or at least most of them. A young Dexter Fletcher, well, quite frankly stinks, being cheesy in his passable, but somewhat stressed faux accent, made even more grating by Fletcher's being wooden and charismaless to the point of throwing you off during some points in which he's on the screen, yet you're quickly pulled back in by the fair deal of performers who do actually step up. Al Pacino, in particularly, genuinely compels as an actually pretty powerful leading man who is too good for this film, as Pacino boasts constant charisma and does a fine job at the faux accent, and will sometimes break out some piercing emotional range and even a kind of subtlety that is much too rare in this film, as I'll get into later. However, within the film's simplicity and ambitions lay strong charm that, I must say, won me over enough for me to stay interested and stick with the film to see where it will pick up. However, the film dissatisfies my hopes, for although it has high points, it loses more and more steam, never really decending into full-on bad, going padded by the aforementioned charm and other consistent strengths, yet still decending into mediocrity, on the whole. This film is watchable, but deserves to be better, or at least not so blasted flawed, because, woah boy, is this film hardly short on flaws. Again, the film isn't a terrible bore, though it is very often quite decidedly slow, limping along with little oomph and limited tightness, going slowed down by cuttable material, quite a bit of which is meditation upon nothingness, a problem I'd imagine is even more intense in the extended original theatrical cut, because in the "Revisited" director's cut that I watched, they incorporated a narration by Al Pacino (His poetic speech structure is almost more overdrawn, forcibly concise and convoluted than mine, though he doesn't break up an extended one-sentence speech with an overlong crowbarred parenthetical message) to keep things from slowing down too much, and considering how wildly overused said narration is, it would appear as though this film had plenty of bloated nothingness for Pacino to talk over when it first hit the theaters. It must have, because in the director's cut, they omitted a good ten minutes of what I'm sure had to have been mostly more nothingness, because if they wanted to make a better film in the director's cut, then I'd imagine that they wouldn't cut ten minutes of exposition, especially considering that this film needed much more development, as well as some explaining to do in many spots. Now, the film isn't so much riddled with plot holes as much as it's fluid to the point of leaving many events to feel quite hurried, sometimes to the point of just plain feeling forced, especially when it comes to shifts in story focus, which are jarring. The more forceful spots aren't helped by a couple of instances of cheesiness, which goes as far as melodrama, some bits of which don't even recieve the common courtesy of being drenched in a saccharine glorification to at least give the illusion that the manipulativeness is genuine, which isn't to say that the film doesn't get to be rather sappy, though not to where it establishes all that much of an illusion of being genuine. The film's worthy ambitions of being a piercing portrait on the non-American-born's views on independence and whether or not the brutality of war is worth it goes betrayed by issues from John Corigliano's overbearing (and occasionally not even all that terribly well-done) score, to the genericism in the execution of such a worthy story, as well as the extreme unsubtlety and lack of flesh-out that leave the sometimes overbearing attempts at emotional resonance to not go backed up enough to really hit home. The final product comes out as fairly underwhelming, and no amount of "revisiting" by director Hugh Hudson can drown out the slowness, genericism, underdevelopment, unsubtlety, unevenness and overall betrayed overambition that leave the film to stand as a mess of squandered potential. I wish that I could get more behind the film, especially considering its aforementioned consistent strengths, as well as its starting out reasonably strong, yet after its former parts, things go south, and by the end, the film is left falling as a mediocre, underwhelming and all around forgettable effort. Overall, the film is handsomely shot, and plenty of fine production designs provide some nifty stuff to look at, while a mostly strong cast - headed by a genuinely powerful and compelling Al Pacino - breathes into the film a strong aura of charm that marries with that of the film's likable ambition to earn enough investment to keep the film from plummeting into disaster, yet the final product sadly never makes it to decent, let alone as good as its worthy concept, as it goes slowed down by, well, slowness and excessive bloating, which still doesn't leave enough room for exposition or fleshing out whose absence really brings to attention the jarringly uneven story focus and cheesy melodrama, made all the worse by genericism and even some overbearingness that just doesn't go backed up well enough for the film's ambitions to ring true, thus leaving Hugh Hudson's "Revolution" to stand as a not particularly bad, but still unfortunately forgettable and mediocre misfire of let down potential and ambition. 2/5 - Mediocre
Cameron Johnson
Super Reviewer
½
That's a poorly constructed "epic" film. Under the shadow of the forgotten ancestors, my first sentence is the warning I can provide you with...pardon me, prevent you from ever watching an insult to moral,mental and majestic dignity. Pacino, Sutherland, Hudson, robotic crew? If it were made by the Puthons, we'd be talking about a new masterpiece, however, if you are not a fan of miss Kinski's delicate face, I suggest you fall into a coma compared to the indefinite visual suffering.
Dimitris Springer
Super Reviewer
According to Al Pacino and Hugh Hudson, studio interference was detrimental to this movie's impact. I watched it in the "Revisited" director's cut edition, and I was still unimpressed with what I saw. This is a movie that falls apart so quickly and extremely that it's difficult to pull out any redeeming features. This is a picture that should have been much longer and more detailed, with more focus on the characters and their motives/backgrounds. What we are provided with are not people with discernable traits, and the plot is too cloudy to follow it strictly on that basis. There are things that I respect about this film. For instance, Hugh Hudson's decision to shoot it completely on hand-held cameras is not only bold, but surprisingly effective. This is a very handsome and unique-looking piece. I also admire Pacino's dedication to his craft, and he manages to shape a distinct performance when he appears to have very little to work with.
Revolution Quotes
There are no approved quotes yet for this movie.