Henry V
(1989)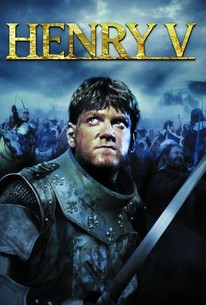 TOMATOMETER
AUDIENCE SCORE
Critic Consensus: Pehaps Kenneth Branagh's most fully realized Shakespeare adaptation, Henry V is an energetic, passionate, and wonderfully acted film.
Movie Info
Kenneth Branagh makes his feature-film directorial debut with this adaptation of William Shakespeare's +Henry V. After the Chorus (Derek Jacobi) introduces the play, young king of England Henry V (Kenneth Branagh) begins an angry dialogue with King Charles of France (Paul Scofield). The king's son, Dauphin (Michael Maloney), insults Henry and the argument escalates into war. In flashback, Henry is seen as a young man drinking in a tavern with Falstaff (Robbie Coltrane), Bardolph (Richard Briers), Nym (Geoffrey Hutchings), Pistol (Robert Stephens), and Mistress Quickly (Judi Dench). Meanwhile, Henry and his captain, Fluellen (Ian Holm), assemble an army and invade France. The French greatly outnumber the British troops, yet Henry leads them to victory in the Battle of Agincourt after delivering his famous St. Crispin's Day Speech. Throughout this struggle, Henry also courts Katherine (Emma Thompson) and eventually wins her over.
News & Interviews for Henry V
Critic Reviews for Henry V
Audience Reviews for Henry V
½
The Branaugh take on Shakespeare starts here with the film that had everyone comparing him to Larry Olivier. It is possible that we embraced this first very good Shakespearean film since Olivier a little easily. Branaugh is no Olivier after all and this film is not as good as Larry's in '44.
John Ballantine
Super Reviewer
Good. But too much left out.
Christian C
Super Reviewer
½
Kenneth Branagh's adaptation of Shakespeare's play was his directorial debut and at the time many balked at the very idea that this young whipper snapper could dare to get in the ring with Laurence Olivier and his then definitive version. This film is a completely different proposition however, choosing to use the cinematic medium to great effect to breathe gritty, believable life into the characters and story. He is of course backed up by probably the finest assemblance of Shakespearian talent whose pedigree shines through in a faultless collection of performances, from the arrogance and politicking of the nobles to the earthy pathos of the common soldier. Even the uninitiated who can be intimidated by the seemingly inpenetrable prose should be able to follow the plot because of the clever use of performance and realism to convey the meaning of the florid dialogue, but I must admit from time to time I wished I had some Cliff notes to aid my understanding of the nuances. The battle scenes are recreated in a way obviously influenced by John Boorman's Excalibur, all sweat and blood and filth, and to echo the modern climate offers a more human portrayal of bloodshed on such an epic scale. The highlights are of course all provided by Branagh's excellent and naturalistic interpretation of Henry (although Paul Scofield's subtle performance as the melancholy King of France is near its equal), most notably his pre-battle speeches which inspire without the clodhopping patriotic manipulation you have seen in everything from Braveheart to Independence Day. His inexperience behind the camera tells occasionally as he gets a little slo-mo happy and the battle is a little confusing, but as a whole it's a great achievement.
Henry V Quotes
| | |
| --- | --- |
| Henry V: | And Crispin Crispian shall ne'er go by from this day until the ending of the world but we in it shall be remembered. We few, we happy few, we band of brothers, For he today who sheds his blood with me shall be my brother, Be he ne'er so vile, this day shall gentle his condition, and gentlemen in England now abed shall think themselves acursed they were not here, and hold their manhoods cheap whilst any speaks, that fought with us upon St. Crispin's day! |
| | |
| --- | --- |
| Henry V: | I pray thee take my former answer back. Bid them achieve me than sell my bones!" |
| | |
| --- | --- |
| Henry V: | And Crispin Crispian shall ne'er go by from this day until the ending of the world but we in it shall be remembered. We few, we happy few, we band of brothers, For he today who sheds his blood with me shall be my brother, Be he ne'er so vile, this day shall gentle his condition, and gentlemen in England now abed shall think themselves acursed they were not here, and hold their manhoods cheap whilst any speaks, that fought with us upon St. Crispin's day! |