The Painted Veil
(1934)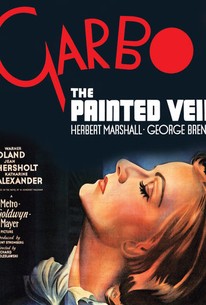 AUDIENCE SCORE
Critic Consensus: No consensus yet.
Movie Info
A W. Somerset Maugham novel was the source for the fair-to-middling Greta Garbo vehicle The Painted Veil. In a situation comparable to the plotlines of most of her silent films, Garbo is lovelessly married to Herbert Marshall, but carries a flaming torch for George Brent. (Also harking back to Garbo's silent days is the fact that neither one of the men in her life is particularly interesting!) Marshall, a brilliant physician, is compelled to go into the interior regions of China to quell a cholera epidemic. He knows that Garbo has been having an affair with politician Brent, and chivalrously gives her the choice of remaining with Brent or accompanying him. Fearing a scandal, Brent bids farewell to Garbo. Once they're in the midst of the epidemic, Garbo tirelessly works by her husband's side; eventually she falls in love with him for the first time. Seriously injured in a peasant uprising, Marshall hovers near death. Brent reappears, offering to take Garbo back with him. She refuses, electing to stay with her husband no matter what the future brings. Among the supporting players in The Painted Veil are Warner Oland and Keye Luke, one year away from their memorable pairing in Fox's Charlie Chan films.
Critic Reviews for The Painted Veil
All Critics (3) | Fresh (2) | Rotten (1)
There is drama enough in the sheer fact of [Garbo's] presence to dominate completely even such a fantastic plot as this one.
Garbo lights up the screen with a sensuous, charismatic performance in this adaptation of Somerset Maugham as an errant wife who redeems herself during cholera crisis in China; Herbert Marshall as the husband and George Brent as the lover are also good
November 5, 2006 | Rating: B
Audience Reviews for The Painted Veil
½
Garbo is such a marvel to behold, so captivating that she doesn't need any effort to make us forgive her character's sins, while the solid script and elegant dialogue always let us understand her motivations, even though the conclusion comes a bit fast and sudden.
Carlos Magalhães
Super Reviewer
½
I watched the newer version with Edward Norton and Naomi Watts before I saw this one and I pretty sure I like the Newer one better...dont get me wrong this movie is very very well acted (especially by Garbo) but I just felt a better connection to the characters. Like Katrin...Garbo play her as whinny and I didnt actually feel bad for her while I did have that connection with Watts.
Morgan Salem
Super Reviewer
½
Pretty good romantic drama, with Garbo putting in her regular wonderful performance as a woman trapped in a marriage with a man she doesn't love, and in love with another man who won't commit to her. Herbert Marshall and George Brent are not some of my favorites, but they held their own here well, as the husband and the lover, respectively. I pretty much expected the ending, but that's OK. The film held my attention and kept me awake even at 1 in the morning, so that's saying something.
The Painted Veil Quotes
There are no approved quotes yet for this movie.