My Blue Heaven
(1990)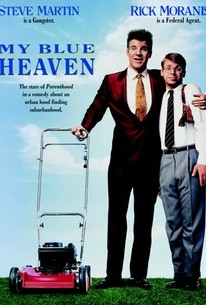 Movie Info
Herbert Ross directed this Nora Ephron-scripted buddy comedy starring Steve Martin, Rick Moranis, and Joan Cusack. Steve Martin plays Vinnie Antonelli, a street smart mobster who agrees to turn state's evidence and is forced to move to Fryburg, California as part of the witness relocation program. Rick Moranis plays the nebbish FBI agent Barney Coopersmith, who is assigned to help Vinnie adjust to small town life. Instead, Vinnie helps Barney come out of his shell, much to the consternation of divorced mother and relentless district attorney Hannah Stubbs (Joan Cusack).
Critic Reviews for My Blue Heaven
Audience Reviews for My Blue Heaven
Steve Martin as a street smart New York Eye-taliano mob guy let loose in super straight suburban whitebread America. Hilarity ensues. It's not as good as it should be, but it'll still do. Fuhgetaboutit. One of my guilty pleasures.
Kevin M. Williams
Super Reviewer
½
You would think that, given the cast (Steve Martin, Rick Moranis, Joan Cusack, Carol Kane, William Hickey, Daniel Stern, et al), crew (director Herbert Ross, screenwriter Nora Ephron), and the premise (a street smart gangster goes into witness protection, and tries to adjust to life in a small California town, yet can't seem to stop committing crimes and lay low), that this would be a sure fire winning comedy, yet that just isn't the case. Here's the thing: it's not a terrible movie, but it's not really that good or reaches its full potential. I still kinda liked it though, or at least a lot of it. It's not boring, but it ultimately fails to deliver where it should be absolutely awesome. Maybe it has to do with the fact that this is a mob comedy that happens to involve Nora Ephron who at the time was married to Nick Pilleggi who was involved with a similar mob film that came out around the same time: Goodfellas. There's some good jokes and funny moments, but it really just feels like everyone is relying on the material to do most of the heavy lifting for them, and they just kinda sit back and phone it in a lot of times. Granted, Martin is pretty funny as the smarmy mobster, but it comes off as a flimsy caricature more often than not. Actually, that pretty much applies to the film overall. I was shocked that this fell so flat. And It bugs me even more since I really can't figure out why this film didn't pan out as it should have. You could see this, as it works as the sort of thing that's good to watch late at night after a long day of work where you just need to kill some brain cells, but it's okay if you don't, as a lot of this is ridiculously predictable and unsurprising.
Chris Weber
Super Reviewer
A pretty good comedy film. It drags a bit in the middle, but it's very entertaining. Steve Martin is actually good as an Italian, or at least in this film. I love Joan Cusack and Rick Moranis...not sure how I feel about them together though. Overall, a pretty good comedy movie full of genuine laughs. I recommend it!
Jameson Worley
Super Reviewer
My Blue Heaven Quotes
| | |
| --- | --- |
| Vinnie Antonelli: | Nice day for a mow. |
| | |
| --- | --- |
| Hannah Stubbs: | And where did you learn to jump start a car? |
| Vinnie Antonelli: | I learned it in the army. |
| | |
| --- | --- |
| Barney Coopersmith: | You dont tip FBI men! |
| Vinnie Antonelli: | Sure you do! |