Bombshell (Blonde Bombshell)
(1933)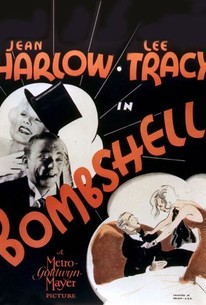 Bombshell (Blonde Bombshell) Photos
Movie Info
Jean Harlow is the "bombshell" of the title, a popular movie actress named Lola. Though she seemingly has everything a girl could possibly want, Lola is fed up with her sponging relatives, her "work til you drop" studio, and the nonsensical publicity campaigns conducted by press agent Lee Tracy. She tries to escape Hollywood by marrying a titled foreign nobleman, but Tracy has the poor guy arrested as an illegal alien. Finally Lola finds what she thinks is perfect love in the arms of aristocratic Franchot Tone, but she renounces Tone when his snooty father C. Aubrey Smith looks down his nose at Lola and her profession. Upon discovering that Tone and his entire family were actors hired by Tracy, Lola goes ballistic--until she realizes that Tracy, for all his bluff and chicanery, is the man who truly loves her. Allegedly based on the career of Clara Bow (who, like Lola, had a parasitic family and a duplicitous private secretary), Bombshell is a prime example of Jean Harlow at her comic best. So as not to mislead audiences into thinking this was a war picture, MGM retitled the film Blonde Bombshell for its initial run.
Critic Reviews for Bombshell (Blonde Bombshell)
Audience Reviews for Bombshell (Blonde Bombshell)
It's nice to see Jean Harlow in a major role after her breakout performances in 1932, but this film is saddled with a weak script, and filled with noisy and annoying performances. Harlow plays a Hollywood starlet and is awfully shrill in the first half of the film, but the biggest problem is Lee Tracy, who plays a slick studio publicity agent. His actions in keeping Harlow in line, his voice, and his smugness all made me want to reach back in time 83 years and punch him in the face, and yet he is positioned as the 'good guy'. Ugh! The attempts at comedy are dated, but Tracy manipulating it so Harlow can't adopt a child because he believes she couldn't do that and have a career is just sickening, not clever. There are some in-jokes in the film, the best of which is 'Harlow playing Harlow' and the barrel scene from 'Red Dust'. It's nice to see Frank Morgan, better known as being the Wizard of Oz, and it's always nice to see Harlow, and here she tells off the leeches in her life in a nice scene, coos over a baby, and later rides a horse. However, it's pretty bad when your favorite part of the movie is the three sheepdogs! This one is overrated and disappointing.
Antonius Block
Super Reviewer
A comedic look that was supposedly inspired by the true life of not only Clara Bow, but Jean Harlow herself. Whether the joke was on her, or she knew it; she seemed to have a lot of fun doing it. In fact, all the actors seemed to have a lot of fun doing this film. This was the best that I've ever seen Harlow. She played a movie star with family who she supported, while they drank and had fun; along with others that used her for their own gains. This poor woman couldn't catch a break. Crazy fun.
nefnie lee
Super Reviewer
it's a very pointed satire of the offscreen life of a sex symbol, ostensibly based on the 'it' girl, clara bow, but having much in common with harlow's own life. great dialogue and one of her best films
Stella Dallas
Super Reviewer
Bombshell (Blonde Bombshell) Quotes
There are no approved quotes yet for this movie.