Navy Seals
(1990)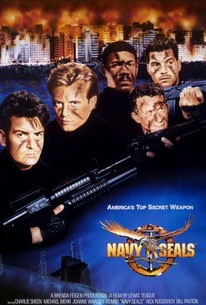 Movie Info
An elite unit of Navy commandos battles Arab terrorists in possession of a deadly arsenal.
News & Interviews for Navy Seals
Critic Reviews for Navy Seals
Audience Reviews for Navy Seals
½
This is probably one of the best over the top kick ass gung ho testosterone filled alpha male fests. You want ice cool shade wearing showing off with ridiculously dangerous stunts then this is it. The cast is what really rocks here with a classic list of 80's action stars...Sheen, Biehn, Paxton and Rossovich, can't get much better than that right. The plot is pretty much one set piece after another with little plot in between which normally would be poor but this film is practically a late entry in the 80's action genre so its easily forgiven. The plot tends to circle around the good guys trying to pick up these missiles before the bad guys (Middle Eastern chaps) can get a hold of em. A few hostage rescues in there too of course...God bless America etc...Its gloriously silly in places clearly leaning more towards a hyped up action man vibe over simulated realism...this film has a high popcorn count, no thinking required. Well I say that but there is a small amount of semi realism here, these guys aren't totally inflated versions of SEAL's. The film does attempt to bring some real life issues into the fold from time to time, family problems etc...barely touched on but its there. There is of course the obligatory tension between certain members of the team at one point, Biehn being the by the books leader where as Sheen is his typical rebellious self. Again this also leads to the obligatory death of a fellow team member due to Sheen's reckless actions in the field, its all very predictable and we've seen this type of thing before. Here its cheesed up to the max with Sheen getting out of control and becoming a loose cannon whilst the others must all band together and be even more macho and stoic than ever before. Watch those tanned jawlines clench as they bare the weight of their high profile responsibilities. Plenty of flashy stunts, many witty one liners and quips and a suitably kick ass finale as the guys run around in war torn Beirut. Its not over the top with blood or profanity which shows you don't need that to be cool (Expendables take note), but it isn't for the younger viewers that's for sure (everything modern take note). The films gives you exactly what you'd expect with a cast line up like this, pure slick action with extra man nipples. Think of this as the 'Top Gun' of cliched special forces macho porn, but its oh so good at the same time, undiluted awesomeness fuel.
Phil Hubbs
Super Reviewer
½
I've been meaning to watch this for years, had some of the big names of actions films from the 90's and 80's even. It has a very simple plot and to be honest doe's look a bit dated compared to more recent action films, not bad for the time it was made.
The desperate search to find another branch of the services to undergo a Top Gun Treatment settles on naval commandos. American response to Middle Eastern terrorism is to send this bunch of larger louts in, knowing that whichever side ends up.
Dean McKenna
Super Reviewer
Navy Seals Quotes
There are no approved quotes yet for this movie.