Narrow Margin
(1990)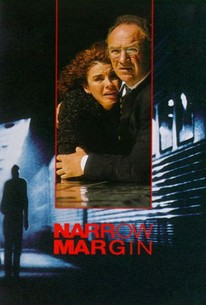 Movie Info
Narrow Margin, directed by Peter Hyams and loosely based on the classic film noir of the same title, tells the story of a resourceful District Attorney who must return a witness to San Francisco alive so she can testify in a trial. Carol (Anne Archer) is in the bathroom of the hotel room of her blind date when he is murdered by mobsters for stealing money. Knowing she is the only witness, Carol flees to an isolated Canadian mountain home to hide out. She is followed by Caulfield (Gene Hackman) who knows that she is a witness and wants to make her testify. When the mobsters track Caulfield to the cabin, Carol must join him in a run for her life on a Canadian train. This film, while it is somewhat uneven, is a tour de force for director/writer/cinematographer Peter Hyams, who delivers a fast-paced, action-packed chase through the Canadian mountains, stunningly photographed and well acted by both Hackman and Archer.
Critic Reviews for Narrow Margin
Audience Reviews for Narrow Margin
½
What an incredible gripping tale of the limits a man will go to protect a witness to the prosecution of a murder case. This is one edge of your seat thriller that gently lets go of your emotions at the very end.
Fascade Fiveoneeight
Super Reviewer
Nowhere near as good as the original.
Anthony Valletta
Super Reviewer
A 50s film noir is remade into a by the numbers thriller. Not terrible, but there's nothing here we haven't seen a hundred times before.