Three on a Match
(1932)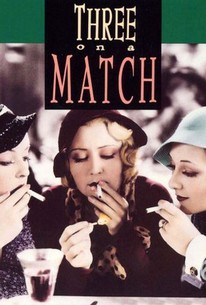 AUDIENCE SCORE
Critic Consensus: No consensus yet.
Movie Info
Three on a Match covers approximately 13 years in the lives of girlhood chums Mary Keaton (Joan Blondell), Ruth Wescott (Bette Davis) and Vivian Deverse (Ann Dvorak). Having graduated from grammar school together in 1919, the girls stage a reunion ten years later. Hard-boiled Mary is now a chorus girl, level-headed Ruth has a steady job as a secretary, and vixenish Vivian is on the verge of capriciously deserting her wealthy husband Robert Kirkwood (Warren William) and their baby in favor of sexy mob-boss Mike (Lyle Talbot). Several more years pass, during which Mary marries Henry, Ruth is hired as governess for Henry, and Vivian's son and a drug-addicted Vivian become fatally enmeshed in a kidnapping plot involving her own child. In his second Warner Bros. film, tenth-billed Humphrey Bogart essays his first sneering-gangster role. Three on a Match was remade (and considerably laundered) in 1938 as Broadway Musketeers.
Critic Reviews for Three on a Match
Audience Reviews for Three on a Match
½
Adultery, child abuse, kidnapping, suicide and Joan Blondell. Not necessarily in that order.
Randy Tippy
Super Reviewer
½
This movie has a promising start, but then the story goes all over the place, once it gets back on track, it's not what you expected from the beginning, but then it gets exciting when Bogart's gang kidnaps the lady's son, and the ending was really good. And for some reason the movie is frequently interrupted by newspapers telling us about the changing world of the 20s, it's annoying and unnecessary. Overall a pretty good movie, but it should have been more dramatic and exciting throughout, instead of just at the end.
½
"three on a match" is a tragic fable of urbanite incurrences upon three females. the major conspicuous performances are from ann dvorak who plays the nymphmaniac sister of paul muni in "scarface"...that was promoted by joan crawford who introduced her the chance to meet howard hughes then she got the role. dvorak is one of the most underrated and undertreated actresses in cinematic history, used to be frequently casted leading lady in the 30s at warner bro. dvorak plays a weary housewife who takes her luxurious marital ease for granted, yearning for the thrill and gayety of life...then her considerate and generous lawyer husband arranges a extravagent cruise trip alone to alleviate her dreariness, then she goes astray into degenerated adultery with a sweet-tongued crook on the ship....thus her doom begins. on the other hand, her other two pals, played by joan bondell and bette davis. bondell is the prodigal playgirl who squanders her adolescence in reform school, conformed to the right track by marrying dvorak's deserted husband, demonstrating great scale of maternality to dvorak's son. bette davis appears almost as oblivion, being characterless as a diligent stenographer and a pleasant friend at her early stage of warner bro. after all, it's not a davis movie but dvorak's. dvorak is usually typecasted as the rebellious do-wronger who descends into depravity, provided with roles to showcase her flapper burlesque which is also in "g-men" and "scarface"....there's a scene she dances frivolously upon the hotel room desk to a lesser standard. dvorak's part involves the gloomy sequence of decaying, accentuated by her traumatized catastrophe that would be the highlight of dvorak's career. "three on a match" is inevitably melodramatic as the rot in the dark alley during the depression period. it features cameos of bette davis and humprey bogart who would later be smashing hollywood legends. the major star who exerts herself has been forgotten for good.
Veronique Kwak
Super Reviewer
Three on a Match Quotes
There are no approved quotes yet for this movie.