Memphis Belle
(1990)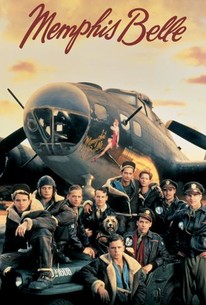 Movie Info
Filmed in the patriotic spirit of pre-Vietnam-era war pictures, the fact-based Memphis Belle details the climactic mission of a B-17 bomber squadron during World War II. The ten-man crew is led by pilot Dennis Dearborn (Matthew Modine) and his co-pilot Luke Sinclair (Tate Donovan); other members include a radio operator (Eric Stoltz), a bombardier (Billy Zane), and a tail-gunner (singer Harry Connick Jr.). The film was produced by Catherine Wyler, whose legendary father William helmed a documentary about the same mission in 1943.
Critic Reviews for Memphis Belle
Audience Reviews for Memphis Belle
Memphis is a fairly underrated movie about the WWII bomber of the same name. Although relying on Clichés, there is still plenty to enjoy here, and the cast are very good in their roles. The story of the Memphis Belle is one of the most famous of any aircraft in the war. The film manages to tell some of its story, but there is also reliance on predictability and clichés to make it more appealing to the viewer. I personally feel that if the film would have been more accurate, this film could really have been a great War film. Overall, it's good, but it never goes beyond of what it could have been. Memphis Belle is nonetheless a good movie, but one that leaves wanting due to the fact that the true story is really interesting to read about. As it is, this one can spark interest in the subject, but due to the fact it's a watered down version of the facts, it only offers a part of the story. Read about the Memphis Belle instead. I liked the film, but it's never anything great. The material is imperfect, and in some areas it could have been better. This is entertaining for what it is, but if you're looking for facts of the plane's mission, watch a documentary of read books on the subject. Despite its flaws, Memphis Belle is thrilling from start to finish. The cast keep you involved and they each bring something unique to the screen to make this worth seeing. Although far from perfect, this film isn't half as bad as what many critics have said about it. If you love war films, check it out, just don't expect accuracy.
½
A Hollywood bastardization of the truth. The crew of the Belle would have been much better served by an independent film company, fewer 'stars' and better actors. Still, even a big production studio couldn't entirely extinguish the heroic aura of these men and what they accomplished. A gripping true story, in spite of the fact that it's littered with cliche characters and meaningless subplots.
Randy Tippy
Super Reviewer
½
Movie about WWII bombers. Good cast.
Candy Rose
Super Reviewer
Memphis Belle Quotes
There are no approved quotes yet for this movie.