Faust
(1926)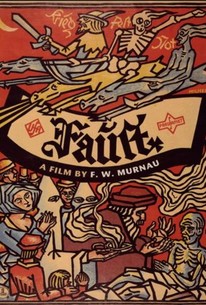 Movie Info
In this German film, Emil Jannings glowers his way through the role of Mephistopholes, who offers the aging Faust an opportunity to relive his youth, the price being Faust's soul. Though highly stylized, the film is unsettlingly realistic at times, especially during the execution of the unfortunate Gretchen.
Audience Reviews for Faust
½
Yes, this movie has cool special effects and a classic tale, but I didn't really enjoy it. The story is great and it could have been much more exciting than what Murnau did with it. I've seen many movies with this same story, so you kinda get bored with it after a while, I suppose.
½
I didn't know, when I started watching these movies. That I would fall in love with so many silent pictures. When I started this I thought that silents were boring and dull and I really had no interest. I was way wrong, some of these silent movies are really gems. I know I have said this before but 1926's Faust has got to be one of the most well shot and put together silent films. This is one of the best movies I have ever seen. F.W. murnau is an amazing director and he is on a roll with me here. The special effects here are phenomenal and the acting is superb. I really see no problems with the movie at all, although it is not scary, but who cares! Faust is an old man and he sees some bad stuff going down in his town somewhere in olden times Germany. Whoa, back it up a bit... The Angel, Gabriel and The Devil, Mephistopheles make a bet that if The Devil can seduce Faust, a dude, he will inherit the earth. Well Faust (See above) is torn by seeing some really bad stuff go down, a big thing being Satan showering his town with the plague. He sells his soul to the devil at first to help the town, but, he is outed because he is found to be doing the devils work. So he decides to let Satan keep his soul as long as he can be young. The rest you will have to watch the movie for... Its wayyy worth it. Like I said above, this is one of the most beautiful and creative movies I have ever seen. Kino video restores the audio in this beautifully. You can watch this with both German and English subs as well, which is nice for my friends from the land of Beer. I was blown away with this film and I will have to give it a 9 out of 10. I wish i could see more of it! Go out and find this movie, its on YouTube, but you should probably just put it on your netflix queue and watch it the right way. Its really not that bad to sit down and watch it. Its only like 102 minuets, its a quick easy watch and its really entertaining. Satan is really pretty funny in this too. Watch for Satan copping a feel, i busted up laughing! S!D
Brandon Siddall
Super Reviewer
½
For people who can still appreciate something made in the prior century (and those numbers are dwindling), Murnau's vision of "Faust" begins with what was at the time a revolutionary visual, and still today is a provacative and effective image. There are any many variations on Faust, and I like the plot details of this one the best. The Faust and Mephistopheles are well acted; I particularly like the facial expressions of this Faust.
_kelly .King
Super Reviewer
Faust Quotes
There are no approved quotes yet for this movie.