The Ghoul
(1933)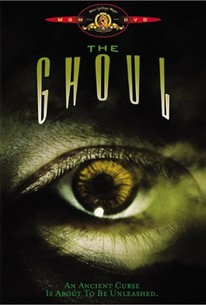 AUDIENCE SCORE
Critic Consensus: No consensus yet.
Movie Info
In this horror film, Professor Morlant (Boris Karloff) is an Egyptologist who is a believer in the powers of ancient Egypt. On his deathbed, he instructs his servant (Ernest Thesiger) to bury with him "The Eternal Light," a jewel that was said to give its holder eternal life. When a greedy student steals the jewel, Morlant rises from the dead to seek revenge.
Critic Reviews for The Ghoul
All Critics (3) | Fresh (2) | Rotten (1)
Early, creepy Karloff.
January 2, 2005 | Rating: 3/5
Richly melodramatic horror -- with marvelous performances, a witty script, atmospheric direction and a surprising number of effective shocks.
Audience Reviews for The Ghoul
An alright horror movie, but over-hyped by critics. I was expecting more from it. It's okay, though, don't get me wrong, the movie's alright, just not great.
Bela Lugosi, Lon Chaney, and Boris Karloff are some of the greatest horror movie actors of all time. They have so many legendary performances under their belts. There were other actors and actresses that were legendary in their own right. Basil Rathbone & Fay Wray are two prime examples, but they just don't stand up to the chops of Karloff or the master of disguise Chaney. That being said Boris Karloff delivers what I believe to be the greatest performance in the first 15 minuets of this movie and peters out. How do you take one of the best actors of Horror and make him look amateur? I really appreciate what the director here is trying to do, this was an independent movie. The film had a very small budget, yet it didn't look like they wanted to scale anything down. The movie looked very clean and even pulled off a minor explosion, but it lacked in the story and really sagged in the middle. Boris' makeup was horrendous. The movie is about an archeologist who discovers immortality if he is buried with the jewel of Anubis. So he gets buried with it, but it is stolen and whatever... The point is Boris Karloff is in bad make-up and he comes back from the dead to get his jewel. I'm not here to spoil the movie, but I will tell you that the movie doesn't really deliver where it is supposed too. You get bored easy. OH, and there is this weird sexual tension between two cousins. Its so strange. I am going to give The Ghoul a 4 of 10. I think this is one of Boris' flops, it could of been alot better had it been picked up by Universal or a big studio like that. Oh well, there was always the Mummy. Just watch the Mummy S!D First British talkie Was formerly a lost film... it was found Filmed in London England
Brandon Siddall
Super Reviewer
The Ghoul Quotes
There are no approved quotes yet for this movie.