Jane Eyre
(1944)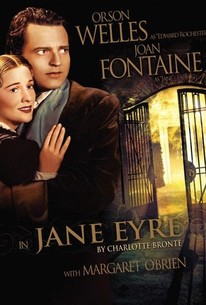 Movie Info
Director Robert Stevenson collaborated with novelist Aldous Huxley and theatrical-producer John Houseman on the screenplay for this 1944 adaptation of Charlotte Bronte's gothic romance Jane Eyre. After several harrowing years in an orphanage, where she was placed by a supercilious relative for exhibiting the forbidden trait of "willfulness," Jane Eyre (Joan Fontaine) secures work as a governess. Her little charge, French-accented Adele (Margaret O'Brien), is pleasant enough. But Jane's employer, the brooding, tormented Edward Rochester (Orson Welles), terrifies the prim young governess. Under Jane's gentle influence, Rochester drops his forbidding veneer, going so far as to propose marriage to Jane. But they are forbidden connubial happiness when it is revealed that Rochester is still married to a gibbering lunatic whom he is forced to keep locked in his attic. Rochester reluctantly sends Jane away, but she returns, only to find that the insane wife has burned down the mansion and rendered Rochester sightless. In the tradition of Victorian romances, this purges Rochester of any previous sins, making him a worthy mate for the loving Jane. The presence of Orson Welles in the cast (he receives top billing), coupled with the dark, Germanic style of the direction and photography, has led some impressionable cineasts to conclude that Welles, and not Stevenson, was the director. To be sure, Welles contributed ideas throughout the filming; also, the script was heavily influenced by the Mercury Theater on the Air radio version of Jane Eyre, on which Welles, John Houseman and musical director Bernard Herrmann all collaborated. But Jane Eyre was made at 20th Century-Fox, a studio disinclined to promote the auteur theory; like most Fox productions, this is a work by committee rather than the product of one man. This in no way detracts from the overall excellence of the film; of all adaptations of Jane Eyre (it had previously been filmed in 1913, 1915 and 1921, and has been remade several times since), this 1943 version is one of the best. Keep an eye out for an uncredited Elizabeth Taylor as the consumptive orphanage friend of young Jane Eyre (played as child by Peggy Ann Gardner).
Critic Reviews for Jane Eyre
Audience Reviews for Jane Eyre
Jane Eyre is a widely filmed adaptation from the Charlotte Bronte book of the same name. It has a story that I can only describe as a meshing of Beauty and the Beast and Rebecca. Maybe I see these parallels because Joan Fontaine is in the principle role, as she was in Rebecca, and similarly she is the stranger in a mysterious home with a gregarious and yet handsome master of the house. The story follows the always unloved and plain Jane Eyre, who is an intelligent woman with a biting wit. Finally able to leave the awful home she was raised in as a girl and ready to make a new life for herself, she becomes a governess to a French girl at Thornfield, owned by the contemptuous Edward Rochester. The film was beautifully shot, dark and foreboding. The newest adaptation from last year had amazing art direction and some vivid and disturbing scenes, but this is far more mystifying, and grandiose in comparison. This film was made to be in black and white, made to be a Victorian romance and a deep comparison to other tragic romance stories from every era. The book itself is not timeless, but the sentiment and appeal is in every person's heart, and Jane is just as reasonably loved by her audience as ever. This adaptation does not take from the literature at all times, instead choosing the story as one of devotion from Jane, who is shown as a piteous soul who has very little in the way of gull, which contemporary films have changed. Though I didn't like Jane as such a lowly creature, in contrast Orson Welles is so brooding and such a rogue, they almost balance each other out. It's gothic and heart wrenching, mostly because many of the details are not shown, especially towards the end when the unpleasantness starts. There is so much sacrifice and inherit romance to this story so it never wanders away from being over the top or unrealistic. Yes, the ending is far too feel good and wraps itself up in too neat a bow, but that was what Hollywood called upon in its romances at that time, and I cannot fault it for that. I only took issue with the booming voice of Welles, who almost seems to be compensating for his lack of knowledge towards the character. Still, he is lively, and his presence didn't take anything away from my pleasure. One of the best adaptations I have ever seen of this source material, and certainly the darkest.
Spencer S.
Super Reviewer
I haven't read the book, but seeing this movie makes me want to read it. Not only is the story fantastic, the acting is great too: Orson welles and Joan Fontaine. I highly recommend this movie weather or not you have read the book.
Brooding adaptation of the book gets the gothic feeling just right, Fontaine is good as Jane but is overpowered, who wouldn't be, by Orson Welles great take on Rochester. He is incredibly charismatic even when he is dark and menacing.
Jane Eyre Quotes
There are no approved quotes yet for this movie.