The Killer
(1989)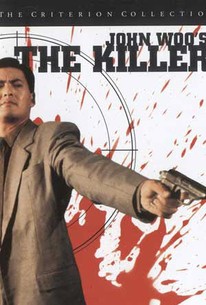 TOMATOMETER
AUDIENCE SCORE
Critic Consensus: The Killer is another hard-boiled action flick from John Woo featuring eye-popping balletic violence and philosophical underpinnings.
Movie Info
Chow Yun-Fat, director John Woo's favorite actor, stars as a professional assassin. The moral outrages of his employers lead Yun-Fat, who adheres to his own code of honor, to seek a way out of his lifestyle. Towards this goal, the assassin befriends the cop (Danny Lee) who has been sent to stop him, and whom Yun-Fat has inadvertently blinded. The violence in The Killer is graphic and uncompromising, but with a near-balletic finesse that can (without fear of sounding pretentious) be labelled sheer artistry. The film ended up as the highest-grossing Hong Kong production since the days of Bruce Lee.
Critic Reviews for The Killer
Audience Reviews for The Killer
½
John Woo's visceral action masterpiece The Killer is his finest directorial effort. Brilliantly acted with an exhilarating storyline, Woo delivers a film that is one of the finest examples of Asian action cinema. Chow Yun Fat is magnetic as Ah Jong, a professional assassin who gets double crossed by his employer. For action fans, this is one of the best films that you can watch. Brilliantly filmed, with memorable action sequences and a well thought storyline, which is simple in its execution, yet is highly engaging from start to finish, due to John Woo's kinetic directorial style. John Woo is famous for making pictures that are highly stylish, focusing on specifics in many scenes, such as slow motion and fast paced shoot 'em up sequences. Although nowadays, that style has been slightly overdone, Woo makes it his trademark, and makes the best use of such methods of filmmaking. The result is displayed here, and what's shown is a thrill a minute action flick that brilliantly uses its visuals to enhance the viewer's experience. I've seen many foreign action films, but none have the power that The Killer has. Woo would later direct, bolder action films, but none have the character that this film possesses. The reason is simply put, that this film is raw, gritty and ultimately more intense. John Woo's later work would be more polished with emphasis on complex stories, and excessive effects. However here, everything is handled in a way that, it does show Woo's unique directorial style, while not overwhelming you with excessive slow motion and other effects that would be a standout in his future efforts. This is John Woo's cinematic masterpiece, a brilliant, piece of cinema that relies on memorable sequences of well thought out action, and a simple plot to create something that you can just immerse yourself in, a strap in for a highly entertaining ride from start to finish. You won't find a finer film of the stature.
½
An explosive and heart-pounding action classic. An unforgettable and killer action movie masterpiece. A full-throttle action-packed extravaganza that pushes the limit. A spectacular action flick that delivers some of the best action sequences and gun-battles in Hong Kong action cinema. The gun-fights snap and crackle of pure awesomeness. Director, John Woo is one of the true kings of action movie-making. This film stand with his best like Face/Off, Hard-Boiled and A Better Tomorrow. Chow Yun-Fat is at his best. Danny Lee is sensational. Lee and Yun-fat are fantastic together, they square off with one another nicely in scenes that include tension and great character development. A great film that has a great sense of characters. range, emotional depth and story as well as fire-power. One of the best action movies I have ever seen. It's damn near perfect.
½
A fabulous action drama. The actors do a great job, the story keeps you on the edge of your seat, and the action is so overwhelming, it's hard not to love this movie. There are also some comedic moments. This was a very entertaining movie, and I recommend it.
The Killer Quotes
| | |
| --- | --- |
| Sydney Fung: | Don't let me die like this. I hate it. Will you give me a hero's death, old friend? You see, I... I didn't keep one last bullet. |
| Jeffrey Chow: | I understand, Sydney. I have one. |
| | |
| --- | --- |
| Detective "Eagle" Lee: | Do all killers have a sense of honor? |
| Jeffrey Chow: | The world has changed. Honor is now a dirty word. |
| | |
| --- | --- |
| Sgt. Randy Chang: | You can't win all the time. But you can't lose forever, either. |