Alice
(1990)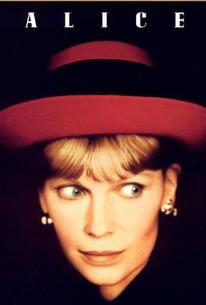 Movie Info
Woody Allen's character study of a well-kept, upscale Manhattan woman (Mia Farrow) takes the title character on a journey through a Wonderland of her own making, in which she learns some truths about herself, her relationships, and the universe in general. Alice leads a comfortable life, except for some nagging aches and pains, but when she visits the mysterious Dr. Yang (Keye Luke), he discovers that what really ails Alice is her own lack of true human experience. Alice has been married for sixteen years to Doug (William Hurt), an emotionally detached stockbroker, and she lives a perfectly maintained life in a perfectly maintained apartment, with a pair of children and the requisite support staff. All that changes when a chance meeting with a neighbor (Joe Mantegna) leads Alice to consider an affair. Dr. Yang, seizing the opportunity, gives Alice herbal potions that make her both invisible and seductive, allowing her to free herself from her inhibitions. Plunging into her new fantasy world, Alice ultimately comes to terms with her family, her husband, and her life.
Audience Reviews for Alice
½
The story of the repressed housewife is a familiar and often overused trope, which Allen subverts in this, his adaptation of "Alice in Wonderland." Starring his then-partner Mia Farrow in the titular role, the story follows Alice as she learns what she really wants out of life through her attraction to a parent at her children's school. She and Joe (Joe Mantegna) fall for each other amid the sexual energy that comes from long saxophone solos and sultry voices whispered into each other's ears. The message of the film isn't all that new or powerful, so I find some of the film grating for that reason, but the characters are really complex and the film overall, is enchanting. This may not be one of his stronger films, or most whimsical, but it's not overtly cynical either. By the end it feels very free and unconditionally sweet-natured, and for all the repression we have to watch onscreen, it becomes worth it in the end.
Spencer S.
Super Reviewer
Mia Farrow is an upper crust Manhattan socialite fully in the material world of shopping, parties and gossip, until persistent back pain leads her to a mysterious Chinese doctor ... flights of fancy lighten this fall down the rabbit hole but the stop, despite typically good Allen ensemble work, is ordinary enough.
Kevin M. Williams
Super Reviewer
Much like Burn After Reading felt like the Coens trying too hard to make a "Coen" film, Alice, a loose reimagining of Juliet of the Spirits, feels like Woody desperately trying to make a "Woody Allen" film. To no avail.
Jonathan Hutchings
Super Reviewer
Alice Quotes
There are no approved quotes yet for this movie.