Hidden Agenda
(1990)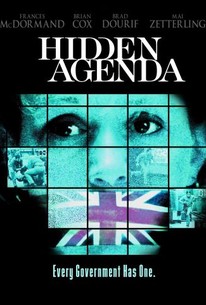 Movie Info
This political thriller is set against the backdrop of Northern Ireland's "Troubles" and directed in the documentary fashion common to British filmmaker Ken Loach's films. Paul Sullivan (Brad Dourif) and Ingrid Jessner (Frances McDormand) are American attorneys serving on a human rights group working to monitor cases of prisoner mistreatment in war-torn Belfast. When Paul learns of some information that may be injurious to the Thatcher government, he is killed, and a top-secret tape disappears. Assigned to the case, Inspector Kerrigan (Brian Cox) is joined by Ingrid in probing Paul's death, which seems to be related to rumors of a high-ranking cabal within the British government working to undermine the Irish Republican Army and liberal policies toward Irish separatists through violent and illegal means. Ingrid meets with Harris (Maurice Roeves), a former British Secret Service agent who's now turned on his former cronies. Together, they look for the top-secret tape.
Critic Reviews for Hidden Agenda
Audience Reviews for Hidden Agenda
A Ken Loach film without a great deal of hype but I would highly recommend searching through the older film rack to take a look at this one.
John Ballantine
Super Reviewer
Hidden Agenda Quotes
There are no approved quotes yet for this movie.