The Connection
(1961)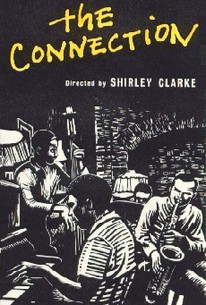 Movie Info
A group on heroin addicts wax philosophically about life and death while waiting for their dealer to arrive. Film is an open look at the drug subculture and value system from an off Broadway play by Jack Gelber. Shown out of competition at the Cannes Film Festival, it was nominated for the International Film Critic's award.
News & Interviews for The Connection
Critic Reviews for The Connection
Audience Reviews for The Connection
½
As a fifty year old movie about a group of junkies waiting less than patiently for their next hit, "The Connection" surprisingly does not feel dated in the least, especially once you get acclimated to some of the acting. In fact, Solly(Jerome Raphael) wonders aloud why heroin is illegal in the first place. Actually, the movie's diverse cast is not the only thing that puts it ahead of its time. The story is framed as a documentary filmed by a two-man crew.(This is adapted from a stage play where I imagine the setup was quite different.) Jim Dunn(William Redfield), the director and possibly the squarest peg in squaresville, has only been allowed into Leach's(Warren Finnerty) apartment due to his cameraman J.J.(Roscoe Lee Browne) gaining an introduction through his pal Jackie(Jackie McLean). Jim's intent is for the addicts to tell their own stories which the cameras only make harder for them to do, fearing what the police could do with the footage. Depending on who you talk to, Leach, who is being severely bothered by a boil on his neck, is gay. There are naked photos of both men and women scattered around the apartment. He promises to invite women to the party but the one that does show up is the last one you would ever expect. It's tempting to only view the apartment as a squat, dingy as it is, but considering how populated it is by musicians, it is definitely more like a musicians' union, with only Solly and Leach lacking any musical inclination.(Were there that many jazz musicians hooked on drugs or was that just a stereotype?) Ernie(Garry Goodrow) does not play but that's only because he pawned his instrument. All of which lends a jazzy flavor to the soundtrack. The only problem is the movie eventually loses its way but that's junkies for you.
The Connection Quotes
There are no approved quotes yet for this movie.