Sorry, Wrong Number
(1948)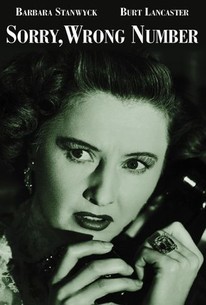 Sorry, Wrong Number Videos
Sorry, Wrong Number Photos
Movie Info
Leona Stevenson is sick and confined to her bed. One night, whilst waiting for he husband to return home, she picks up the phone and accidentally overhears a conversation between two men planning a murder. She becomes increasingly desperate as she tries to work out who the victim is so the crime can be prevented.
Critic Reviews for Sorry, Wrong Number
Audience Reviews for Sorry, Wrong Number
½
I spent the first 86 minutes hoping Barbara Stanwyck would get what's coming to her and the last 3 minutes praying she'd escape. What a sensational screenplay (à la Lucille Fletcher)!
Randy Tippy
Super Reviewer
Probably the first great telephone themed thriller ever. I highly recommend this movie.
A bedridden invalid tying to reach her husband by telephone overhears part of a murder plot when her wire is accidentally crossed. This terrific little thriller is basically a woman-in-peril melodrama shot in the style of a film noir. It isn't difficult to pick holes in the story - indeed, the whole plot hinges on the most enormous of coincidences: that of all the telephone conversations in New York, Stanwyck should overhear this particular one - but it really is a beautifully made picture. Sol Polito's magnificent photography deserves a special mention, and some of the elaborate camera movements and seamless effects shots are still impressive today. Lancaster is great and Stanwyck's transition from haughty hypochondria to gibbering hysteria over the course of the movie is a tour de force. The bleak ending still packs a wallop but my favourite scene is the first Staten Island flashback, which besides being very mysterious has an extraordinary dreamlike texture.
Sorry, Wrong Number Quotes
There are no approved quotes yet for this movie.