Awakenings
(1990)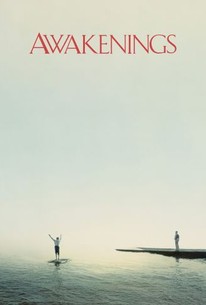 TOMATOMETER
AUDIENCE SCORE
Critic Consensus: Elevated by some of Robin Williams' finest non-comedic work and a strong performance from Robert De Niro, Awakenings skirts the edges of melodrama, then soars above it.
Movie Info
In this film, Dr. Malcolm Sayer takes a job at a Bronx psychiatric hospital and is put in charge of several seemingly catatonic patients. Under Sayer's painstaking guidance, they begin responding to certain stimuli. Sayer is then given permission to test a new drug on one of his patients.
News & Interviews for Awakenings
Critic Reviews for Awakenings
Audience Reviews for Awakenings
½
A wonderful film that is sweet and melancholy without being sentimental and with two phenomenal performances by Robin Williams and Robert de Niro. Full review on filmotrope. com
Carlos Magalhães
Super Reviewer
½
"I'm sorry! If you were right, I would agree with you". Despite being a prominent director throughout the 80's and 90's, surprisingly, Penny Marshall seemed to hang up her boots after 2001's Driving in Cars with Boys. To be fair, her films always had a cloying or whimsical tinge to them and her last few movies didn't reach the enjoyable heights of her earlier work like A League of Their Own and Big but she always showed promise as a director - with Awakenings, arguably, being her most accomplished work. In 1969, Dr. Malcolm Sayer (Robin Williams) takes a Neurology position in a Brooklyn Psychiatric hospital where he finds patients that have been in a catatonic state for decades due to a condition known as post-encephalitis. With further investigation, he focuses on Leonard Lowe (Robert DeNiro) and begins to prescribe a drug called L-Dopa. Miraculously, Leonard responds to the drug, awakes from his "sleepy-disease" and begins to move, talk and embrace life once more. Based on the true life events depicted in Dr. Oliver Sacks' novel of the same name, Marshall has a solid handling of the material. Steven Zaillian's script has a good balance of humour and pathos and an all-important sensitivity to the characters while Marshall is aided with a wonderful cast where she's able to tease out heartfelt, powerful performances. Even the relative unknowns bring something to the table but, ultimately, it's the two major players who shine brightest: Robin Williams brings real humanity to his excruciatingly shy doctor while DeNiro is a tic-ridden, tour-de-force as his patient and delivers one of his very best, and heartbreaking, performances. It would not be out of place to argue both actors deliver some career best work here. Williams plays it absolutely straight and resists any urge to wisecrack or improvise while DeNiro is simply astonishing. You can watch him, fully informed of his acting prowess, yet he still manages to convince you that his involuntary movements and speech patterns aren't for real. DeNiro was rightly awarded with an Oscar nomination for his work but why he didn't win is beyond me. In fact, it must have been a frustrating year for him at the Academy Awards in 1991. He lost the Best Actor award to Jeremy Irons in Reversal of Fortune but this was the same year that one of DeNiro's best films - Goodfellas - would be overlooked and his good friend Martin Scorsese also ignored for Best Director. On reflection (although not unsurprising) the Academy made a number of mistakes but there's no doubt in my mind that DeNiro took the brunt of it and thoroughly deserved more for his output that year. His work as Leonard Lowe is truly captivating and epitomises the sheer breadth that DeNiro is capable of. Actors embodying a disability or medical condition tend to be Oscar bait with the likes of Dustin Hoffman (Rain Man), Tom Hanks (Forrest Gump) notably winning the Academy over. As good as they were, DeNiro's performance is even better than those and the only exception that just might overshadow them all is Daniel Day-Lewis in My Left Foot. Despite my admiration, Awakenings has come in for some criticism. In particular, a forced sentimentality has been found by many. I suppose this will depend on the individual viewer and in a sense I can see why they might think that. However, I found the sentimentality to be well judged and the performances balanced and authentic. That said, there's no denying it's ability to bring on the water works. It's hard to keep a dry eye (especially with the help of Randy Newman beautifully pitched score) but I, personally, didn't see this as being overly sentimental but more about it having the ability to relate and draw you into it's very personal and tragic story. And what a story it is. Admittedly, I never read the late Dr. Sacks' novel on which it's based but I did read his memoirs and case studies told in The Man Who Mistook His Wife for a Hat and that, like Awakenings, was a book of medical revelations and anomalies that are nothing short of fascinating. Powerful and affecting, Awakenings is a film that captures the heart and triumph of the human spirit to it's empathic core. It also provides two exceptionally excellent performances from Williams and, especially, DeNiro. It's through these captivating performances that we are allowed access to the wonder and bewilderment of human conditions and Penny Marshall's delicate handling brings it to the fore. A genuine treat from the early 90's that possesses one of Williams' strongest dramatic roles and one of DeNiro's last truly committed. Mark Walker
Mark Walker
Super Reviewer
Based on a true story, a doctor moves to a new institution where he examines and tries to cure schizophrenic patients who are very far gone. Once he comes across a patient that he feels connected to (Robert De Niro), he starts giving him extra doses of medicine until he is able to walk and speak normally once again. Many incredible things happen along the way and this film is elevated by a very down-to-earth performance by Robin Williams, and Robert De Niro gives one of the best performances of his career as the patient. This film is beautifully written and heartfelt to the bare bones in every way possible. Each character gives you something to be so thankful in life that you have. "Awakenings" is a very moving picture with powerful acting, great direction, and a theme that will have you in tears. One of my favourites, it is such an incredible film.
Awakenings Quotes
| | |
| --- | --- |
| Dr. Malcolm Sayer: | The human spirit is more powerful than any drug. |
| Dr. Malcolm Sayer: | What we do know is that, as the chemical window closed, another awakening took place; that the human spirit is more powerful than any drug - and THAT is what needs to be nourished: with work, play, friendship, family. |