True Colors
(1991)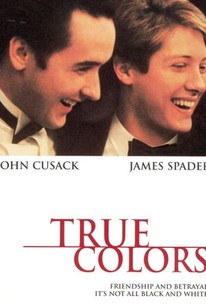 Movie Info
Two old law-school buddies find themselves on opposing sides of ethical beliefs when one is a manipulative politician and the other an attorney for the Justice Department who soon becomes aware of his friend's dealings and is motivated to take action.
Critic Reviews for True Colors
Audience Reviews for True Colors
½
This movie has three of my favourite actors: Cusack, Spader, and Widmark. But I only got to see the second half of it on TV one day. It's full of political stuff I don't understand and don't care for, but like I said, I didn't get to see the whole of it. From what I saw it's not that good, but I did like seeing three of my favourite stars in a movie together.
John Cusack, James Spader, Imogen Stubbs, Mandy Patinkin, Richard Widmark DIRECTED BY: Herbert Ross Best friends from law school to election night, their friendship is sorely tested when one learns of another's betrayal. It was a good movie with great performances from Cusack and Spader. At times I found myself thinking that the roles should be switched around. So use to seeing Spader playing the -excuse the language- asshole, and Cusack playing the good guy. But in the end it worked. It got a little boring at times and seemed to drag a bit in the middle, but the ending was where it got really interesting. Especially the play-out of there friendship. So it's well worth the watch. Or you can watch it for the simple fact that I did. I am a fan of both the leads and it was good seeing them in a movie together.
♥˩ƳИИ ƜѲѲƉƧ♥
Super Reviewer
½
I was really impressed with how good the acting was in this. James Spader and John Cusack really worked well together. I can't believe Cusack actually pulled off being a villain, I always saw him as the nice guy, but he really did well. James Spader also did well as usual, but also a different character than i'm used to with him.
Conner Rainwater
Super Reviewer
True Colors Quotes
There are no approved quotes yet for this movie.