Down to Earth
(1947)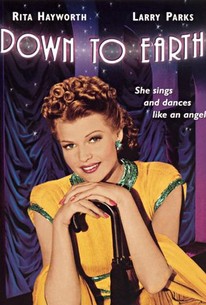 Movie Info
A semi-sequel to Here Comes Mr. Jordan, Columbia's Down to Earth is a camp- and kitsch-lover's delight. More beautiful than ever, Rita Hayworth stars as Terpsichore, the Goddess of Dance. From her perch Up Above, Terpsichore discovers that Broadway producer Danny Miller (Larry Parks) intends to put together a musical satire, lampooning herself and her fellow Greek Gods. Eliciting the aid of Heavenly emissary Mr. Jordan (Roland Culver, taking over from the earlier film's Claude Rains), Terpsichore descends to Earth in human form, landing a role in Miller's play. Through her bewitching influence, Miller agrees to abandon his plans for a satire, transforming his production into a portentiously serious "work of art"-which lays a large and noxious egg with the opening-night crowd. Somehow, our ethereal heroine manages to set things right, but there's still one nagging problem: Will she, a goddess, ever be permitted to fall in love with a mere mortal like Miller? Repeating their Here Comes Mr. Jordan roles, James Gleason and Edward Everett Horton appear respectively as the eternally flustered Max Corkle (formerly a fight promoter, now a theatrical agent) and the pompous, rule-bound Heavenly messenger #7013. Silly but immensely entertaining, Down to Earth was remade as the sillier but decidedly less entertaining Xanadu in 1980.
Critic Reviews for Down to Earth
All Critics (5) | Top Critics (1) | Fresh (2) | Rotten (3)
The film may annoy those who do not thoroughly enjoy "swinging" everything in sight.

A silly story with lavish Technicolor extravaganza contrives to make a fairly entertaining musical.
It stars Rita Hayworth, looking as good as she's ever looked.
Audience Reviews for Down to Earth
A semi-sequel to Here Comes Mr. Jordan, but it's a musical comedy. The movie is funny and has some good songs too. Xanadu is a sort of remake of this movie as well. This movie is better, of course.
½
Mediocre musical wherein Rita is gorgeous but the music is exceptionally ordinary and leading man Larry Parks lacks star quality. A sequel to the far superior Here Comes Mr. Jordan with James Gleason repeating his role from that film, he's one of this film's bright spots.
Down to Earth Quotes
There are no approved quotes yet for this movie.