Cyrano De Bergerac
(1990)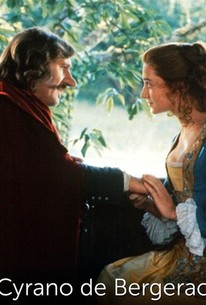 Cyrano De Bergerac Photos
Movie Info
Gerard Depardieu gives a towering performance as the title character in this lavish, cinematic, and poetic adaptation of Edmond Rostand's classic stage drama. Cyrano, a 17th-century French soldier and man of letters, loves Roxane, but sensitivity about his enormous nose drives him to help a handsome cadet woo her.
News & Interviews for Cyrano De Bergerac
Critic Reviews for Cyrano De Bergerac
Audience Reviews for Cyrano De Bergerac
½
Edmond Rostand's classic story comes to life in this 1990 adaptation. Gerard Depardieu has recently become a parody of himself, the fat Frenchman who drinks a vineyard and a half every day, and that makes it easy to forget how energetic, poetic, and compelling he once was. He gives a tour de force performance in this film, actually challenging Jose Ferrer for the best Cyrano. The problem with story is that it's hard to believe that a man as arrogant as Cyrano wouldn't try to sink or swim with Roxanne on his merits. So there has to be an element of self-conscious insecurity to his scenes with her, and while that's not altogether missing from Depardieu's performance, it's still not clear why Cyrano wouldn't pursue her on his own behalf. Vincent Perez actually brings a strength to the hapless role of Christian. Overall, this is one of the best versions of a classic story.
Jim Hunter
Super Reviewer
½
Based on the classic of French literature, Cyrano is the tale of a brave and noble soldier with the body of a bearish brute but soul of a poet who helps a more visually appealing competitor gain the affections of his true love. There are a few parts that certain actors were born to play, and this was Gerard Depardieu's. He is simply wonderful as the eloquent and dashing hero who sets aside his jealousies to achieve true love by vicarious means. It's essentially about being true to one's soul and failing to compromise through all adversity as well as a morality fable with the simple message of "don't judge a book by its cover". It's a faithful adaptation of the material, and as such is quite wordy although its eloquence will win over all but the most hardened action junkie. Passionate, larger than life, romantic and tragic in equal measure, this Cyrano is easily the best screen adaptation and very, very French.
Gerard Depardieu shines as Cyrano, the brute swordsman with the soul of a witty and loquacious poet. A passionate chant to real love, beyond any superficial matter.
Pierluigi Puccini
Super Reviewer
Cyrano De Bergerac Quotes
There are no approved quotes yet for this movie.