Stone Cold
(1991)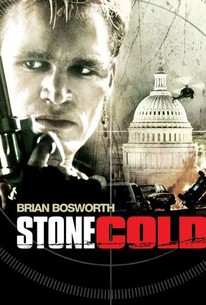 Movie Info
In the early '90s, Brian Bosworth made the seamless transition from football bad boy to onscreen bad ass. In Stone Cold, the Boz plays cop Joe Huff, a brute force specialist. The FBI contracts him to take down a biker gang known as the Brotherhood, who have been implicated in drug trafficking and several murders. Joe assumes the personality of John Stone and goes undercover. His mission seems not to bust the gang but rather to kill with excessive force. Before he can take the law into his own hands, however, he has to get in with the gang's leader, the impressively tough Chains. The Boz doesn't disappoint, and he gets his chance in the final confrontation where he takes on several score of the Brotherhood in the street battle to end all street battles.
Critic Reviews for Stone Cold
Audience Reviews for Stone Cold
½
There ain't no action cinema like 90's action cinema
Marcus Woolcott
Super Reviewer
½
I didn't know much about Bosworth until seeing this, after watching I'm surprised he hasn't made more action films (that were as popular) because this was pretty darn good. I loved the whole cheesy violent biker scene thing going on here, the terrible outfits, earrings and haircuts and the hammy dialog that accompanies all the fist fights and face offs. The film reminded me of Charlie Sheen flick 'Fixing the Shadow'. I also loved how the women just wonder around in skimpy leather outfits like trophies for the bikers hehe this was a totally 80's action flick made in the early 90's. I like how Bosworth was used for this, Sly, Arnie or Dolph could of done this easy and it would of been great but a new face gives it a sense of originality, plus Bosworth has a nice humorous side which plays well at the start. I was actually surprised at how violent this got from the half way mark, Henriksen killing loads of people as crunch time comes close. Its a shame the ending action sequence gets way too silly even for this over the top muscle fest (I also noticed some stunts that Mr Cameron may have pinched for 'T2' or vice versa seeing as they are both 1991), hell of a ride.
Phil Hubbs
Super Reviewer
'sother hidden gem that is also like finding a needle in a haystack. I finally got a hold of a copy that was only in my old and dusty vhs collection. One of the best early 90's action flicks. If they had a place for me to go online and vote for who i thought was one of the top 10 villains of film of all time, i tell ya this flick contains two of em. I simply love Lance Henriksen to death and anytime he pops up on the big screen as a villain i get goosebumps. Another is the always great but highly underrated William Forsythe. Brian Bosworth plays undercover F.B.I. agent Joe Huff. Who is sent way under to infiltrate a chapter of the motorcycle gang The Brotherhood. This chapter is run by Chains (Lance Henriksen) and his second in command Ice ( William Forsythe) Due to the recent capture of one of their main captains have decided to place an assassination attempt on the town mayor. Its up to Joe to stop them before its too late. Forsythe and Henriksen play outlaw bikers so well you would think they were them. An awesome thrill ride that starts of from the get go and never slows down till the ending credits role.
Stone Cold Quotes
| | |
| --- | --- |
| Chains Cooper: | youve got balls of steel, stone... |
| Chains Cooper: | You've got balls of steel, Stone... |