20,000 Leagues Under the Sea
(1916)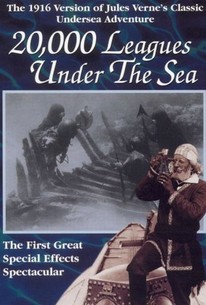 Movie Info
The 1916 silent version of Jules Vernes' 20,000 Leagues Under the Sea was "sold" on the basis of its advanced underwater photography, the handiwork of the legendary Williamson Brothers. The film's storyline combines elements from both 20,000 Leagues and another Verne novel, Mysterious Island. Towards the end of the film the power-mad Captain Nemo, whose futuristic submarine is the film's centerpiece, explains why he has come to hate mankind--which segues into an elaborate flashback sequence set in India, which seems to have been concocted by Rudyard Kipling. The cost of this film was so astronomical that it could not possibly post a profit, putting the kibosh on any subsequent Verne adaptations for the next 12 years. 20,000 Leagues Under the Sea is available today in a tinted print, which has been somewhat truncated due to film-stock deterioration.
Critic Reviews for 20,000 Leagues Under the Sea
Audience Reviews for 20,000 Leagues Under the Sea
To modern audiences, accustomed to fluid storytelling techniques, this work may seem something of a relic and yet, forgiving the herky-jerky story jumps, one has a window into the imagination of the past. Captain Nemo seeks revenge on society and his instrument is a marvel of advanced design, all metal vessel with undersea capabilities. A remarkable achievement of sci-fi storytelling is worth a look to open hearts and minds.
Kevin M. Williams
Super Reviewer
I guess you can call this the first Michael Bay film. 20,000 Leagues Under The Sea was the second adaptation of the Jules Vernes novel, it features iconic mariner costumes. The story telling was a mess however, but the special effect was impressive considering the budget. It's not the most interesting films but deserves cinematic recognition.
Sylvester Kuo
Super Reviewer
20,000 Leagues Under the Sea Quotes
There are no approved quotes yet for this movie.