Fury
(1936)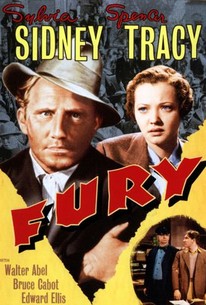 Movie Info
Fritz Lang's first American film is a vigorous and perceptive indictment of mob law, starring Spencer Tracy and Sylvia Sidney. Katherine (Sidney) leaves her boyfriend, Joe Wilson (Tracy), behind in their Midwestern hometown when she takes a job in another city. Joe is a decent, hard-working soul, who wants to save up to buy a gas station and looks forward to the future when he and Katherine can get married. A year later, Joe is traveling to meet Katherine so that they can be married. Driving through a small town, Joe is stopped by a deputy sheriff waving a shotgun. Apparently there has been a kidnapping, and the fact that Joe has peanuts in his pocket circumstantially incriminates him in the crime. Joe is arrested and jailed. As Joe sits in his jail cell, the local townspeople begin to talk and whisper and spread rumors. Finally, a lynch mob forms and heads toward the jail. The mob tries to storm the jail and frustrated over their inability to penetrate the prison walls, they set the jail on fire. Joe barely manages to escape ("I could smell myself burning"), but the mob thinks that Joe has been burned to death. Behind the scenes, and with the help of his brothers, Joe tries to rig the verdict in the impending trial of the 22 vigilantes.
Audience Reviews for Fury
½
Fritz Lang's first American film after fleeing Nazi Germany and the oppression of Adolph Hitler. A predecessor to the classic film noir of the 1940s and 50s, Fury has a wealth of elements which would later define the noir style. Outstanding performances from Spencer Tracy and Sylvia Sidney help cement this 'wrong man' courtroom drama as a true timeless classic.
Randy Tippy
Super Reviewer
I loved this movie, Tracy is an innocent man fighting for his life, and everyone wants to kill him! It's so exciting and suspenseful. A must see.
it's still a powerful film about mob mentality and perhaps more about anarchism than lynching since it ignores the obvious racial issue. otherwise it seems a pretty glaring omission since at least 80% of lynching victims were black. i have to believe the studio wouldn't allow it to be referenced for commercial reasons. the film can also be read as anti-democracy given that the original title was mob rule. thx v :) mgm invades warner territory of socially conscious films. great performance by spencer tracy as everyman.
Stella Dallas
Super Reviewer
Fury Quotes
There are no approved quotes yet for this movie.