Possessed
(1947)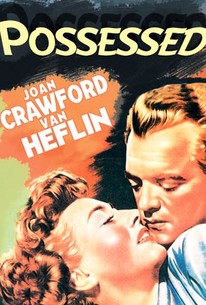 Movie Info
We first meet Joan Crawford, star of this moody flashbackfest, wandering aimlessly through the city streets. She goes to pieces in public and is rushed to the mental ward, where a team of psychiatrists try to find out who she is and where she's been.
Critic Reviews for Possessed
Audience Reviews for Possessed
½
What a great film to see for Mother's day! Crawford's obsession and descent to madness is quite believable. Van Heflin has all the great lines and plays the rakish cad perfectly.
Stefanie C
Super Reviewer
½
I was completly expecting a different thing. Something between paranormal and suspense...but no. The movie is about this woman with serious mental problems. Filmed back in 1947 but impecable directed, the camera angles are great. Almost everything is really good, the acting, the cinematography, the story. The end I feel that needs a little more punch, but well, minor detail. So rent it, look for it or buy it. Oh!, and Geraldine Brooks...O_O wow.
Sergio Garcia
Super Reviewer
Excellent movie, I loved how this was filmed - the whole beginning of the movie as she wanders down the street half crazy reminded me of photography, Truly an enthralling movie, following Louise (Joan Crawford), who is obsessed with the caddish David and driven to insanity by having to watch him with her daughter in law, or maybe by Schizophrenia, who is to know which came first?! One of the best old movies I have seen, not far short of Mildred Pierce.
Nicki Marie
Super Reviewer