Romance
(1930)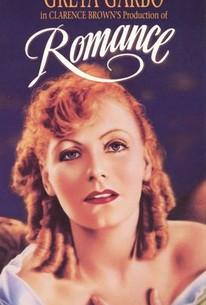 AUDIENCE SCORE
Critic Consensus: No consensus yet.
Movie Info
Greta Garbo appears here (in her second talking film) as an Italian singer who seduces a young priest into falling for her. She admits that she had been the kept woman of an older man, and when she returns to her former lover (to tell of her new love), her visit is misinterpreted by the priest as a liaison, prompting the priest to cast her affections aside. The film is told in narrative fashion, through the eyes of the priest when looking back to an early portion of his life. Garbo and director Clarence Brown earned Oscar nominations for their respective roles in the making of the film.
Critic Reviews for Romance
All Critics (1) | Fresh (1) | Rotten (0)
This romantic melodrama, her second talkie, is verbose and stiff, but Garbo gives a strong, dominant performance, which earned her another Oscar nomination.
Audience Reviews for Romance
A sanctimonious young man (Lewis Stone) falls for an opera singer (Greta Garbo) who has a bad reputation because she carries on with men (sigh, and grr). "Perhaps I'm not the marrying kind either", purrs Garbo, through her thick accent, though she's far from a floozy. The big question is whether they should break it off because of their differences and her "fallen" status, and ultimately, despite their love, they do. The story is told by Stone, in his old age now, to his grandson. He's carried a torch for Garbo all these years, and councils him to marry for love, regardless of the circumstances. The ending is a nice touch, but I didn't care much for the characters, and was mystified by how Garbo was nominated for an Oscar after butchering so many lines. This is one of those movies that really does feel old, complete with comical special effects on a toboggan slope (I believe the one outdoor scene in the movie) with an obviously filmed backdrop, a look you now see parodied on shows like Saturday Night Live. A couple of nice quotes though: "How would you like it if I drink to what I see in your eyes, and you drink to what you see in mine?" "Let me tell you something that I hope you will remember. Yesterday is a dream we have forgot. Tomorrow is the hope for some great happiness that will never come. Before, behind - just clouds and shadows. Nothing is real but this little minute that we call today."
Antonius Block
Super Reviewer
Romance is a horrible film. Garbo's seduction is not convincing and Gavin Gordon's tale of romance has have to been the most boring tale that his young lad has heard. Romance has no romance.
John Ballantine
Super Reviewer
Romance Quotes
There are no approved quotes yet for this movie.