Kuroi Ame (Black Rain)
(1989)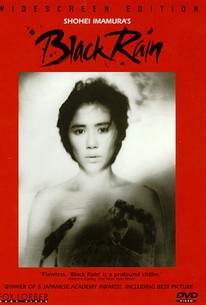 Kuroi Ame (Black Rain) Videos
Kuroi Ame (Black Rain) Photos
Movie Info
When a young woman visits Hiroshima on the day of the atomic bombing, she somehow survives to return to her village. Her village has been affected by the black rain of the bomb's aftermath, and as the villagers sicken, they begin to blame her for bringing this back to them.
Critic Reviews for Kuroi Ame (Black Rain)
Audience Reviews for Kuroi Ame (Black Rain)
In "Black Rain," Shigematsu(Kazuo Kitamura) is caught in the nuclear blast in Hiroshima just as he is boarding a train, along with his wife Shigeko(Etsuko Ichihara). They find their niece Yasuko(Yoshiko Tanaka) easily enough who was outside of the blast area but still caught in the fallout. Together, they start a horrific journey to the factory where Shigematsu works and now considers sanctuary. Five years later, they are living in the countryside and Shigematsu and Shigeko turn their energies to try to get Yasuko, at the advanced age of 25, a husband but everybody is all too aware of her past, even with a clean bill of health. That's not to mention him starting to show symptoms. The quietly moving and riveting "Black Rain" is a relatively restrained movie filmed in stark black and white from Shohei Imamura who shows little of his typical chaotic energy.(The exception is a subplot centered around Yuichi(Keisuke Ishida), a shell shocked former soldier, while another subplot goes nowhere.) There are few close-ups, as the movie keeps its emotional distance from the characters. Since radiation sickness at this point is so new, there are no successfully proven treatments, leaving the victims to rely on either folk remedies(So, I guess they were not kidding about the cod blood.) or ritual which can either be of the religious variety or as mundane as listening to the news every night at the same time. Time is also of importance to these characters who might not have that much left but it also flows in different directions, which flashbacks to the fateful day attest to as much as Shigematsu's mother confusing Yasuko with her dead mother. History repeats itself as war is happening again in Korea, leading to a news report of Truman threatening to use nuclear weapons, reminding us that some people never learn history's lessons. At least one character does get it when he points out that 'an unjust peace is better than a just war.'
Kuroi Ame (Black Rain) Quotes
There are no approved quotes yet for this movie.