Born to Ride
(1991)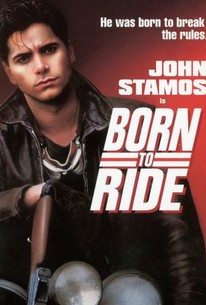 AUDIENCE SCORE
Critic Consensus: No consensus yet.
Movie Info
TV star John Stamos makes a game transition to the big screen in Born to Ride. Stamos plays a motorcycle whiz, who in 1939 is assigned to motorize a US cavalry troop. His irreverence and slovenliness makes Stamos a pariah to his superior officer John Stockwell -- and just to complicate matters, both men are rivals for the affections of Teri Polo. All is forgiven during a desperate (and highly unlikely) mission to Spain, wherein Stamos uses his cycle skills to rescue a defecting Nazi scientist. As history, Born to Ride is a bust; as a vehicle for John Stamos, it has its points.
Critic Reviews for Born to Ride
There are no critic reviews yet for Born to Ride. Keep checking Rotten Tomatoes for updates!
Audience Reviews for Born to Ride
A good boys own type adventure yarn with all the right elements for viewers of all ages and both sexes, but with an eye on motorbikes, smoking and looking cool in a James Dean kind of way the guys will probably enjoy more. You could compare this to classics like 'The Great Escape' or 'Where Eagles Dare' accept the cast is young and unknown but this works well in the film and the story. Its alittle silly, a young hotrod biker is given the choice of jail or helping the army teach its recruits to ride bikes, unlikely but who knows. There is much tomfoolery and crossed wires of course as the biker punk gets to grips with his new role but its enjoyable to watch and throw in a soppy romance between him and the Colonels daughter so all bases are covered for all. Things get even better as the young troops get sent on a mission to Spain, in a bike race oddly, which equals aliitle bit more gritty action against nasty Germans/Spanish with some killing going on but nothing graphic. A good Sunday afternoon flick to watch with a nice happy ending to lift you, can't spoil the film as its pretty obvious what will happen :)
Phil Hubbs
Super Reviewer
Born to Ride Quotes
There are no approved quotes yet for this movie.