Wing and a Prayer
(1944)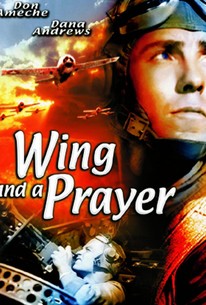 Movie Info
Former president Ronald Reagan may have genuinely believed that he was referring to a real-life act of selfless wartime bravery whenever repeating his "We'll bring this one down together" anecdote. In fact, he was merely quoting a scene from the above-average World War 2 drama A Wing and a Prayer. The setting is an American aircraft carrier, overseen by tough, unserving flight officer Don Ameche. When casualties begin piling up, the pilots blame Ameche, accusing him of being an indiscriminate butcher. Only when the tide of battle turns in favor of the Allies do the pilots realize that Ameche has been right all along. Director Henry Hathaway spent several weeks aboard an actual aircraft carrier, filming genuine combat scenes. Many of these authentic sequences appear as background footage in A Wing and a Prayer; sometimes the process work is convincing, sometimes it isn't, but please remember that this film was made long, long before the advent of computer technology. Dana Andrews, William Eythe, Richard Jaeckel, Harry Morgan (billed as 'Henry Morgan' here), Richard Crane, Glenn Langan, Reed Hadley and Bob Bailey are among the ready, willing and able Fox contractees appearing in A Wing and a Prayer.
Critic Reviews for Wing and a Prayer
All Critics (5) | Fresh (4) | Rotten (1) | DVD (3)
It's one of those Hollywood's propaganda films. Luckily, most of them had good directors. [Full review in Spanish]
Feels tougher and more focused as it continues, and it editorializes much less obviously than most movies of its genre and period do about who on screen is to be admired and who is to be regarded with unresolved ambivalence.
A manifest-protected foolhardy was more important to champion than cool consideration and calculated risk.
Audience Reviews for Wing and a Prayer
Morale boosting little gem that flies under the radar (pun intended) of most combat connoisseurs. Gotta love Don Ameche!
Randy Tippy
Super Reviewer
½
I found this movie boring, boring, and boring, but if you like war movies, maybe you'll have a higher opinion of all the flying scenes. I only rated it higher because of the good actors.
Wing and a Prayer Quotes
There are no approved quotes yet for this movie.