The Hitman
(1991)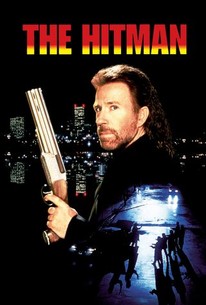 Movie Info
Brother Aaron directed this Chuck Norris outing, in which the action hero plays a cop believed dead after he is shot by criminals. Instead he survives, and the police give him a new identity and send him undercover.
Critic Reviews for The Hitman
All Critics (8) | Top Critics (1) | Fresh (1) | Rotten (7) | DVD (2)
Entertainingly bad.
January 24, 2007 | Rating: 6/10
The Hitman is Norris's attempt to do something darker, something riskier than he usually does.
One of Chuck's more generic efforts.
July 26, 2002 | Rating: 1/5
Audience Reviews for The Hitman
Who does not love Chuck Norris?? I dont care if his movies have no plot, its cheesy at times and tries to hard. But Chuck is the man!! his a grade and b grade movies did really set the trend for years to come, This is Chuck's first dark gangster movie, playing an undercover cop posing as a mob hitman, dealing with Italians, the French and Iranians, and all in the meanwhile tracking down is ex partner who shot him out of a 2nd storey window. But as we glimpse the different sides to Chuck's role, we wonder how far deep he's going for the job... and what it will cost him. It already nearly cost him his life once. Its dark, brutal, and hardcore for an early 90's film, machine guns, ak's, and countless bullets going off like a bad day in Bosnia , a hardman with a heart movie, though its all heart when Chuck whips out his mini shotgun and dispenses justice... and to a really explosive ending. Literally. Enjoy a classic B-grade action thriller!
½
Chuck Norris looks more cool in his character as a police officer who is officially listed as dead and becomes the "hit man" for a Seattle crime boss in order. Cool gore shots in the final shoot-out.
Dean McKenna
Super Reviewer