Teacher's Pet
(1958)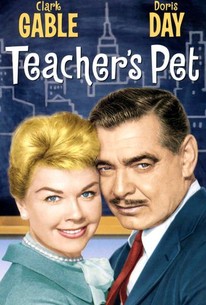 Movie Info
Hard-boiled, self-educated newspaper editor Clark Gable turns down an opportunity to lecture before a night-school journalism class, publicly ridiculing the notion that the art of news writing can be taught. After receiving an honorary university degree, Gable's publisher orders the recalcitrant editor to appear at the lecture. Upon entering the classroom, Gable overhears journalism teacher Doris Day, the daughter of a Pulitzer Prize-winning reporter, condemn Gable's attitude towards higher education. Intrigued by the lovely Day, Gable enrolls in her class under an assumed name. He quickly goes to the head of the class (after all, he's had more experience than all the other students combined), then begins a campaign to romance Day. But there's a fly in the ointment: Day's fiance Gig Young, who gives an Oscar-calibre performance as a smug know-all. Likewise stealing every scene she's in is Mamie Van Doren, playing an exotic dancer who's set her sights on Gable. Fay and Michael Kanin's sprightly screenplay for Teacher's Pet manages to steer clear of any and all potential cliches.
Critic Reviews for Teacher's Pet
Audience Reviews for Teacher's Pet
½
It seems that Doris Day used to be the go-to-gal when it came to suffering from men and their mistaken identities. Teacher's Pet is a movie which stands in the tradition of the infamous three Hudson/Day/Randall movies from the 50ies. Oddly enough, the film was done in black&white and the reason for that may very well be the film's biggest drawback. It was done to disguise Clark Gable's age and weight and he still looks rather worn down and bloated. I do like him and while he is no Cary Grant I think he has proven his comic talent (It happened one Night is a fine example), but as a love interest for Doris Day ? I don't think so, he comes across as clumsy old chap more than anything else and I think they should have either cast someone younger and more vital or stuck to the friendship thing. Doris Day does what she does best and balances between the feisty and sexy female and the oogle-eyed blond and proves why she was unique in that respect, that she could play romantic comedies without being degraded into eye candy but still deliver the necessary on screen chemistry. The film is rarely laugh-out loud like other screwball comedies from the time and the humour is more tragic than anything else. I think the film could have done with a more interesting supporting cast, both in the scrip and on the screen. Maybe an elderly governess for Day or a goofy or witty sidekick for Gable, but both characters seem to float in a social vacuum somehow. All in all, Teacher's Pet does not manage to be all it could have been but is still a charming little movie with a slightly miscast male lead. HX
Henrik Schunk
Super Reviewer
"teacher's pet" is probably clark gable's best comedy in his long run career as king of hollywood, even with his leading lady still in the prime age of blossom (which means gable might age, but NOT his leading ladies)..this time sunny-temperamented doris day is the lad in his brutish masculine conquest. the most grippling charm of "teacher's pet" would be the witty dispution between intellectual elitism and prole populism, and naturally day's professor stands as the former and gable's hard-boiled newspaper editor shall be the latter. as commoners' contempt to the literate educated men, gable dismisses professors as eggheads who only have ideas without practical economical effiency. the romance blooms along with their mutual appreciation and acceptance to their seperate classes. of course, according to the favor of mass ideology, gable's gotta be the one who captivates the lady of the golden key. but the greatness of this flick would gable's humble willingness to ruminate himself and compromise with some self-reflections. he manifests the intimidation he feels over the elitist meanwhile strives to remain the man who stands firm on his own ground. what makes him adorable would be his boyish vulnerability, just like marlon brando's sexiest scene in "streetcar named desire" would be his heartbreaking snarling for STELLA. he acknowledges his own shortcoming and even bares some sense of insecurity which is not very common in the flicks of gable's younger days. "teacher's pet" mingles sexual atagonism with class conflicts, and even further toward the coping of intellectual idealism and pragmatic cynicism in the newspaper business. it demonstrates great caliber of humanity with a light-hearted sympathetic touch, being substantially clever and also preserving a gay hollywood ending for audience who wish to have a pleasant time over the weekend.
Veronique Kwak
Super Reviewer
Clark Gable in the autumn of his career and Doris Day right in the middle of hers, it shouldn't work, but it does. Special mention goes to the late great Gig Young. He steals the film for me.
Sarah Burton
Super Reviewer
Teacher's Pet Quotes
There are no approved quotes yet for this movie.