The Doctor
(1991)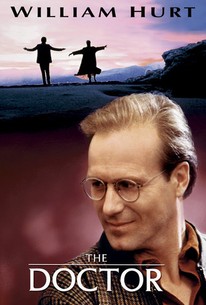 Movie Info
A doctor finds out the hard way that there's more to medicine than skill in the operating theater in this emotional drama. Jack McKee (William Hurt) is a gifted but arrogant surgeon who cares little about the emotional welfare of his patients and is little more than a benign stranger to his wife Anne (Christine Lahti) and his son Nicky (Charlie Korsmo). Jack has been suffering from a nagging cough for some time, and when he begins coughing up blood one morning, he finally allows another doctor to take a look at him. The doctor discovers that Jack has a malignant tumor in his throat that could rob him of the ability to speak, or even kill him. Suddenly, Jack is a patient instead of a doctor, and he learns first hand about the long stretches in the waiting room, the indignity of filling out pointless forms, and the callous attitude of the professional medical community. Jack also gets to know June (Elizabeth Perkins), a terminal cancer patient whose joyous embrace of life as her time draws to a close is an inspiration to him. Restored to health, Jack is determined to be a more caring healer and strives to be a better husband and father, but his new lease on life also earns him an enemy in fellow surgeon Murray (Mandy Patinkin), who wants Jack to lie under oath for him in a major malpractice case; and a new respect for Eli (Adam Arkin), an ear-nose-throat man he used to ridicule for his empathetic treatment of his patients. The Doctor was based on the memoir of real-life surgeon Ed Rosenbaum, entitled "A Taste of My Own Medicine."
Critic Reviews for The Doctor
Audience Reviews for The Doctor
William Hurt gives his usually strong performance as a doctor who learns the errors of his bed manner ways by becoming sick himself. It meanders into over sentimentality at the end however.
John Ballantine
Super Reviewer
Hurt. Nuff said. He's simply brilliant here, perfectly cast and at the top of his game. Which is a good thing, seeing as he's pretty much carrying the whole film on his own. While the film does border on the melodramatic, some moments really stuck with me. Our entire med class watched this together and the immediacy really hit us hard. It's believable. You can see yourself falling into those habits of negligence or over-working yourself. All I can say is that if you're in a health-related field, this is pretty much required viewing. Thanks, Will. :)
Jessica van der Sloot
Super Reviewer
½
Superb film, Hurt is brillaint as the egotistical surgeon and his fall from grace is touching and extremely well done.
Barry Lappin
Super Reviewer
The Doctor Quotes
| | |
| --- | --- |
| June: | Just let down your arms, Jack, and we'll all come to you. |
| | |
| --- | --- |
| Jack McKee: | Every doctor becomes a patient somewhere down the line. |
| | |
| --- | --- |
| Leslie Abbott: | I am the doctor and you are my patient and I am telling you when I am available. |
| | |
| --- | --- |
| June: | I'm dying. Please don't waste my time. |